Media releases
Korumburra secondary school graduate wins FedUni scholarship
Posted: Wednesday 4 January 2017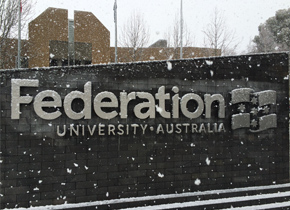 Korumburra Secondary School graduate Nicholas Mann is a little closer to achieving his goal of making it big in business thanks to a $5,000 Federation University Australia Year 12 Scholarship.
Nicholas accepted the offer to study a Bachelor of Business at Federation University and he will be among the first students to study at FedUni's new Berwick campus when it opens its doors in early 2017.
The high school captain has left a lasting impression at his school. Under his leadership, he reformed the school's student representative council that saw an increase in student participation in school activities. He also played drums in the school band and is umpire and assistant coach of the local hockey team.
His Federation University Australia Year 12 Scholarship means that he can now prepare for his studies, rather than to look for more part-time work.
An essential expense for Nicholas is the purchase of a new computer which is necessary as he lives with Dysgraphia, a disability affecting his ability to handwrite notes.
He says the purchase of a new computer is something he is very much looking forward to.
"My current laptop is five years old and is on its last legs. It was a real challenge using it during VCE. It couldn't survive the amount of study I can expect at FedUni," Nicholas said.
"I'm so grateful to Federation University Australia. I don't have to stress about finding more money as I know have the means and the time to buy a computer that will cope with the demands of my studies,"
Nicholas said the support of FedUni staff is what made him decide to study at the Berwick Campus and its proximity to his home town of Korumburra.
"I attended a few open days but FedUni's Berwick Campus is close to home. The teachers were so welcoming and understanding of my disability and I like how the University provides a supportive model to higher education, the teachers want you to succeed,"
FedUni will provide 15 courses at the current Monash University Berwick Campus under a deal announced in July 2016.
FedUni will progressively move into the Berwick Campus and will take full control of the site in 2018.