Stranieri, Andrew (A/Prof)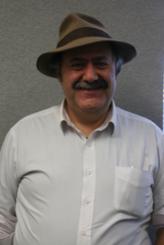 | | |
| --- | --- |
| Position | Associate Professor |
| Office | T136 (T Building, Level 1, South) |
| Phone | +61 3 5327 9283 |
| Fax | +61 3 5327 9289 |
| Email | a.stranieri@federation.edu.au |
Qualifications
BA(Melb)
GradDipCompScience(LaTrobe)
AdvDipCompScience(LaTrobe)
PhD(LaTrobe)
Short biography
I am driven by the need to have my research make an impact in improving healthcare
My early research in artificial intelligence and law combined argumentation theories with machine learning that led to a new approach for developing decision support systems commercialised through a spin-out company in the early 2000's.
My research in digital health includes spans diverse methodologies from experimental quantitative analyses to diverse forms of qualitative analysis. Research areas include telehealth, intelligent visualisation of health data, streaming data from patient's wearable sensors to Blockchains, analysis of social media use in healthcare, supporting deliberation between groups of healthcare workers, open banking models of electronic health records, and remote patient monitoring of patients. My work in remote vital signs sensing has been commercialised through a spin-out company currently trading in India.
I have been named one of seven Digital Health Disruptors originally from LaTrobe University. I have published over 150 peer reviewed journal and conference articles and two authored books. I have been awarded 7 Australian Research Council grants and supervised 10 PhD students to completion.
Teaching areas
I am passionate about engaging students at all levels to become self-directed, enthusiastic learners that constantly reflect on their practice ready to make contributions to society.
I have taught in:
Health informatics
Data mining
Artificial intelligence
Reflective practice
Information systems
Programming
Research methodologies
Research interests
Digital Health
Blockchains in health
Remote patient monitoring
Data mining
Artificial intelligence applied to law and health
Regulation of AI systems