Wild birds and antimicrobial resistance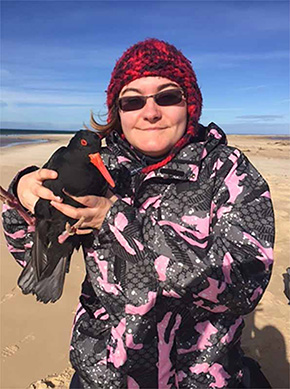 Hannah Smith
School of Applied and Biomedical Sciences, Faculty of Science and Technology
"My PhD is looking at infectious disease and drug resistance in the bacteria of wild Australian birds, with a specific focus on how migration may affect the spread of these bacteria."
Hannah's research is a perfect combination of both fieldwork and lab work.
"I work with the Victorian Wader Study Group, who band shorebirds throughout Australia. I am taking cloacal swabs from birds — that is, I am swabbing their bums — and then looking for certain infectious bacteria when I return to the lab. It is all very hands-on!"
Antimicrobial resistance is a growing threat and it is forecast that it may kill 300 million people by 2050. Bacteria with antimicrobial resistance can be found in populations that have not been exposed directly to antibiotics and wild animal populations may play a potential role in its further spread.
Hannah undertook her undergraduate studies at the Federation University Gippsland Campus. "I was introduced to this topic during my degree — I haven't been able to put it down since! At FedUni, the staff, everyone is friendly and willing to help out. And the location — FedUni is within a few hours of all of my fieldwork sites in Victoria making it easy to travel to all of my sampling locations along the coastline."
Hannah had originally wanted to be a veterinarian, but ended up falling in love with microbiology during her undergraduate degree and decided to pursue a career in microbiology instead. "I have always had a passion for science and biology, and when the opportunity arose to combine my two favourite topics — birds and bacteria —I jumped at it!"
Hannah's advice to other girls and women looking to a career in science is "Keep working at it! It might look overwhelming at the start, but before you know it, you're looking back and seeing all the work and accomplishments you've done."