Making mammograms more accurate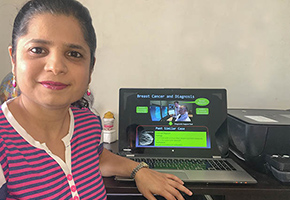 Pradnya Kulkarni
School of Information Technology, Faculty of Science and Technology
Detecting early-stage breast cancer depends on screening tools such as mammograms, but they are not fool-proof and coming up with ways to make them more accurate would speed diagnosis and reduce false results.
Pradnya, a computer scientist with a background in electronic engineering and software design is designing a computationally-effective algorithm for the automated detection and diagnosis of breast cancer analysing mammogram images. "This will improve the efficiency of radiologists' detection of suspect tumours. Some computer aided detection and diagnosis systems have been applied to automated mammogram classification but their accuracy, specificity and sensitivity have not been high partly because of the challenges inherent in distinguishing identifying characteristics from the images.
My research is developing a novel image representation model, called Pixel N-grams, for the automated diagnosis of mammographic lesions that can be used as a second opinion by radiologists. It will improve both the speed and reliability of breast cancer diagnoses resulting in lower healthcare costs and improved breast cancer survival."
In 2013, Pradnya won the university research conference prize for her paper Integration of image and text retrieval to support radiological assessments, and in 2016, at the Beijing International Conference on Signal and Image Processing, best oral presentation for Texture image classification using pixel N-grams.
Pradnya began her association with FedUni through studying a graduate diploma in Information Technology. "I was also involved in sessional teaching and research at FedUni's School of Information Technology which encouraged my interest in pursuing a PhD."
"I could see that FedUni offers expert and supportive PhD supervisors in different fields. There is tremendous help for higher degree by research students, a nurturing environment as well as scholarships and funding for professional development."
"Research Services at FedUni runs the Graduate Centre Program which is great for help connecting with other students and developing research skills. There are online tutorials for guiding HDR students year round and FedUni's library services are great."
Pradnya has always been fascinated by science, particularly information technology and medical sciences.
"I think IT gives you a power to help in almost all fields and there is enormous flexibility with working remotely and accessing resources anywhere any time. Researching the use of information technology to improve health care systems gives me immense pleasure and the satisfaction of helping our community. I love being able to think innovatively."
Pradnya knows there are rewarding opportunities for women researchers in the field of science and technology.
"I think women have a lot more patience than men and this is a valuable quality for research in science. If you believe in yourself and are committed, I am sure you would end up in the career of your choice with satisfaction and pride. My advice to women who want to pursue the career in science is to overlook the teasing, motivate yourself, ignore or deal with bias and learn the time-management skills needed to achieve a good work-life balance."