Decision-making support in healthcare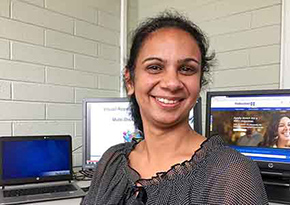 Vishakha Sharma
School of Information Technology, Faculty of Science and Technology
Vishakha is a computer scientist, originally from India. She likes to keep in touch with the latest technology, so a career in science is perfect for her.
"I was working at the local hospital when I decided to pursue a doctorate. My earlier Master's degree involved machine translation of languages. I browsed profiles of researchers in Artificial Intelligence and I found my supervisor who suggested researching in Health Informatics."
She says "FedUni provides me with ample resources and a good environment to carry out my research."
Vishakha has used a design science approach to create a visual representation of a patients' pathway to present alternative treatment options to those who need to make decisions about the best form of cancer care for them. These decisions are typically made in multi-disciplinary meetings, who need to draw on different facts and information sources.
"My study focuses on representing the clinical narrative and the main events of the patient's journey in the form of a visual representation and then evaluating its impact on multi-disciplinary meetings in cancer care to see whether it improves group decision-making and patient care outcomes.
Vishakha believes a career in science is well worth pursuing even if, at times, it requires perseverance.
"Don't give up. Keep trying. Even if you don't succeed at your first attempt, don't lose heart. Always remember these encouraging and inspiring words by Nelson Mandela; I never lose. I either win, or learn."