Making the internet safer from cyber threats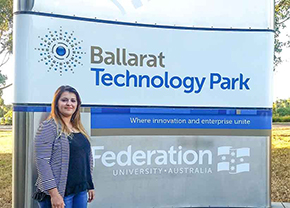 Ansam Maan
Internet Commerce Security Laboratory, Faculty of Science and Technology
Ansam's research applies multi-disciplinary "big-data" analysis approaches based on cutting-edge methods borrowed from various fields like Data Science, Statistics, Mathematics, Information Systems and Management and Computer Information Security to look into the security of data maintained by banks.
"My PhD research is coming up with better ways to detect illicit financial activities and predict future attacks, which ultimately will mitigate possible risks to sensitive bank data. The results will help crime detection and prevention and improve Australia's national and international security."
Ansam previously completed a Masters degree at Federation University, so she well knows the benefits of working at this university.
"Studying at FedUni provides me with a unique experience working on real world challenges in industry and equips me with a unique blend of skills that are needed in leading organisations." But studying at FedUni also has non-academic benefits, she says. "FedUni's Mt Helen Campus is a quiet place to do research away from city distractions and traffic and I can spend more time with my three boys."
Ansam is particularly proud to be a woman data scientist. "Computer study related programs have always been seen as a male-dominated profession and I learned that maths and science was unusual for girls to study. My interest and passion in Information Technology does not stop me from being feminine, I taught myself to be technical. Support from my family, especially my late dad and my husband who is an academic in the same field, meant that I never felt held back about pursuing maths and science and being good at them. I always wanted to contribute to this field and I believe that I can contribute as well as anyone."
Ansam believes that her field provides exciting research and long-term job opportunities for women and girls in science. "Worldwide, only ten per cent of information security professionals are women. The small representation of women in cyber security is a big opportunity for us to enter a field with a severe labour shortage. My role model is Google's first female engineer, Marissa Mayer, now Yahoo's CEO, who believes that now is a really great time to be a woman in technology."