Creative activation of the past
Amy Tsilemanis
Arts Academy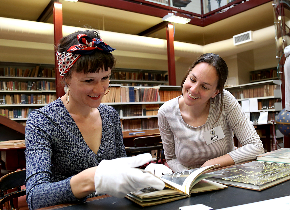 Creative activation of the past: arts, heritage and engagement in cultural institutes and their regional contexts.
Amy's research connects arts, heritage and engagement to explore the contemporary role of historic cultural institutes. Her research looks at heritage and cities as dynamic organisms and the role that both arts and culture can play in providing points of connection within institutes going into the future.
As curator at the Ballaarat Mechanic's Institute, her research is practice and action led. She is producing creative case-study events and exhibitions to provide new engagement with the past. "My research is important because it is demonstrating the value and possibilities of creative activation of historic stories and places"
Amy is an active member of the arts and heritage communities in Ballarat - a significant pilot city for UNESCO's Historic Urban Landscape approach. This means that undertaking research at FedUni enables her to work with lots of great mentors and colleagues, doing important work in the region. "I love being based in the centre of the city and being linked into innovative arts and history practice."
Amy's advice to younger women contemplating HDR studies is to follow your interests, make connections that are meaningful to you, and remember that you have something unique and important to contribute. Don't feel like you have to fit in a box.