Baron Ferdinand von Mueller, K.C.M.G., PhD, F.R.S.
Botanist
SMB Examiner & Benefactor 1880-1888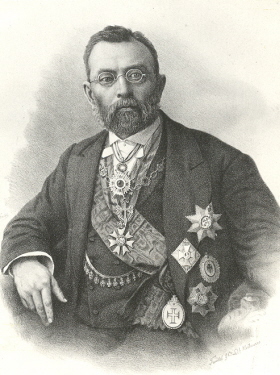 When the School of Mines and Industries Ballarat Council agreed to introduce pharmacy and botany classes in 1879, it was apparent students would require access to botanical specimens in order to further their studies. Council members, who were inspired by the work of Baron Ferdinand von Mueller, authorised development of an area along the School's northern boundary, fronting Lydiard Street South, and oversaw the establishment of the new Botanical Gardens.
Baron von Mueller took a practical role the development of SMB's Botanical Gardens from the beginning. He became a generous benefactor who 'donated collections of seeds and leguminous fodder plants, including valued grasses of interest and use to agriculturalists and graziers generally' to the School of Mines and Industries Ballarat over many years. The Botanical Gardens at SMB were originally enclosed by a picket fence.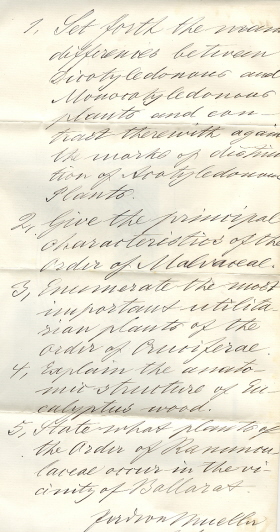 In 1879, George Porter Day began to tend some 200 varieties of plants, mostly medicinal including borage, marigold, fennel, chamomile, caraway and yarrow. Day's valuable contribution to the establishment of the Gardens was recognised in 1880 when the SMB Council employed him as the School's first gardener.
Baron von Mueller took a practical interest the work of pharmacy and botanical students studying at SMB after the commencement of lectures in January 1880, He set their exams and marked their term papers from 1880-1888.
Today, a surviving section of the original terraced gardens provides a cool, shady retreat for students and staff on the Federation University Australia's SMB Campus, Lydiard Street South. Baron von Mueller's link with the School's Botanical Gardens is recognised on a commemorative plaque installed on site at SMB in 1979.
This biography written by Di Campbell, 25 October 2005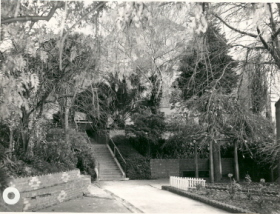 Image caption (RHS): Ferdinand Von Mueller (cat.no.319)
Image caption (LHS): Handwritten July Term 1882 Examination Paper (Cat.No.504)
Image caption (RHS): SMB Botanical Gardens (Cat.No.4750)
Image caption (LHS):Centennial Plaque 1879-1979 (cat.no.3801)