Federation University Australia Art Collection Instigators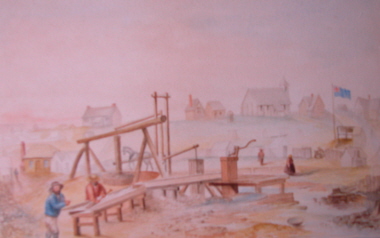 In June 1950 Arthur J. Law, Principal at Melbourne Teachers' College said: 'We have been building up a collection of paintings - chiefly originals by leading Australian artists. A conservative evaluation is 1,600 pounds ... It is not enough for students to be about Art; they should be able to live with examples of good art.' This vision was taken up by many teachers' colleges around Victoria, including at Ballarat. Today Federation University Australia benefits from, and continues this vision, seeking to develop and maintain a permanent collection of high quality works of visual art for the cultural enrichment of its student body, staff and wider community.
The art collection consists largely of works by Australian artists, the earliest of which dates from 1909 with the donation of 'Claim of the Waterloo Mine Co.' This work depicts the Ballarat goldfield at the location on which the Ballarat School of Mines (SMB) was built. Works from the 1920s and 1930s showcase students from the SMB Art School, but the greatest period of art collection occurred at the Ballarat Teachers' College during the 1950s and 1960s. During that time smart collecting, and student contributions used for art purchases, resulted in the acquisition of works by emerging artists including Leonard French, James Gleeson, George Johnson and Inge King.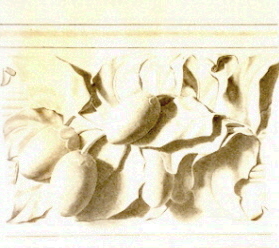 The works initially collected during the Ballarat Teachers' College era were carefully selected by art staff members Arch Cuthbertson and Ted Doney, then in subsequent years, leading to the formation of Ballarat College of Advanced Education, by staff members of the Art Department. Following the amalgamation at the Mt Helen Campus members of the Art Acquisitions Committee have included Bob Allen, Dr David Alexander, Greg Binns, Loris Button, Clare Gervasoni, and Geoff Wallis.
Former students of the Ballarat Teachers' College are acknowledged for their interest and financial contributions. At the 1959 unveiling of the 'Tapestry' mural by Leonard French artist Charles Bush stated: 'The 1959 students have left something not just to 'ooh' and 'ah' at, but something that is thought provoking, arresting and interesting. This work of art keeps something in reserve and draws you to search for deeper meaning behind the splendour of colour. This mural is not one from which will fade the interest of its beholders, but one which will provide intrigue for generations to come. ... the students of this College have set the opening for a greater and wider appreciation of contemporary art within this 'City of Art'.
When the Ballarat Teachers' College / State College of Victoria at Ballarat collection was moved to the Mount Helen Campus Ian Page had responsibility for the display in the School of Education. The Leonard French mural was the pride and joy of the collection. Since that time the art collection has been augmented with various contemporary prints, ceramics, graphics, paintings and sculptures, often highlighting the work of graduates, postgraduates and staff of the University.
A complete listing of works in the Federation University Australia Art Collection (previously known as University of Ballarat) can be found at http://victoriancollections.net.au/organisations/federation-university-australia-art-collection

This overview prepared by Clare Gervasoni, 2 February 2006, updated 31 July 2006, January 2008, 13 August 2014
Image caption (RHS): Claim of the Waterloo Mining Company, 1909. Artist Unknown. (Cat.No.UB291)
Image caption (LHS): Drawing Ornament from Cast in Light and Shade', c1920, by Albert E. Williams (Cat.No.UB517)
Image caption (RHS): 'Tapestry' by Leonard French.