John Waters Sutherland (1870-1946)
Assayer and metallurgist SMB (1898-1904)
John Waters Sutherland graduated from the School of Mines, Ballarat (SMB) as an assayer and metallurgist. The Board of Examiners' Minute Book (30 March 1904) records 'Mr Sutherland having passed the prescribed exams of Certificate of Assayer and Diploma of Associate ship in Metallurgy and spent 3 months in the School's battery is eligible and is recommended for the Associateship in Metallurgy and the Assayer's Certificate'. (Signed A. Mica Smith)
Later he became chief assayer at Broken Hill Proprietary Mines (BHP) (1889-1894), assistant metallurgist BHP (1894-1896), metallurgist at Lake View Consols (WA) (1896-1899), attorney and General Manager of Golden Horseshoe Mine (WA), and assayer at the Phoenix Mine (Bayley's) at Coolgardie (1938, 1945). In 1899 the SMB Council reported on 'the very successful career of Mr J. W. Sutherland since he left the school and to his present responsible and lucrative position as Metallurgist to the (1899-1929), Golden Horseshoe Mining Company of Western Australia', Consulting Mining engineer Perth (1929-c1938), Assayer Phoenix Gold Mine Coolgardie (1938-1946).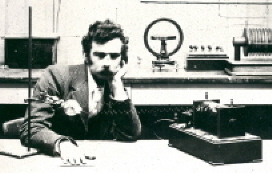 The SMB Students' Magazine 1902-06 received communication from Sutherland concerning specifications and detail plans of a new sulphide plant at the Golden Horseshoe Estates Company, Kalgoorlie, WA. This was to be constructed and was costing the enormous sum of 100,000 pounds. Two other students of SMB, Farrell and Manners, were associated with Sutherland in carrying out the designs.
While at the Lake View Consols he introduced the sugar beet filter press and was acclaimed for 'other inventions'. In 1901 John Waters Sutherland was elected to the executive, Chamber of Mines of Western Australia. He became vice-president in 1902. Sutherland was made an honorary member in 1930, when he was also a member of the Hannans Club, the Masonic Lodge and the Australasian Institute of Mining and Metallurgy.
John Waters Sutherland was born at Scotchman's Lead on 16 August 1870. His father was John Sutherland, a miner, and his mother was Wilhelmina Waters both of Scotland. John Waters Sutherland never married and died on 26 September 1946 aged 76. He is buried at Karrakatta cemetery, Western Australia.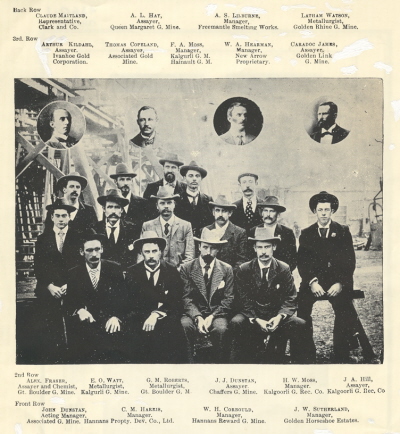 This biography prepared by Dorothy Wickham, December 2005
Image caption (RHS): John Sutherland experiments with X-Ray (Roentgen tube), c1896 in the SMB laboratories. Sutherland is X-raying his hand. (Cat.No.4322)
Image caption (LHS): Group of Old Ballarat School of Mines Students in Coolgardie and Kalgoorlie, W.A.(Cat.No.4360) Back Row (L-R): Claude Maitland, A.L. Hay, A.S. Lilburne, Latham Watson 3rd Row (L-R): Arthur Kildahl, Thomas Copeland, F.A. Moss, W.A. Hearman, Caradoc, James 2nd Row (L-R): Alex. Fraser, E.O. Watt. G.M. Robets, J.J. Dunstan, H.W. Moss, J.A. Hill Front Row (L-R): John Dunstan, C.M.Harris, W.H. Corbould, J.M. Sutherland