John Braisted McKinnon ROBINSON (c1877-1935)
Registrar
Ballarat School of Mines (c1902-1935)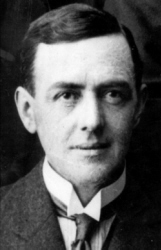 Born in Ballarat to Jonathan Robinson (foundry manager) and Hannah Wilsmore, John Robinson married Mary Barrie Flynn at Melbourne.
John Robinson joined the administrative staff of the Ballarat School of Mines (SMB) sometime around 1902. He was Acting-Registrar during the absence of Fred Martill in 1909, and was appointed Registrar in 1923.
A talent for painting and a love of nature and gardening occupied part of John Robinson's time. According to his descendants Robinson found time to attend the renowned Max Meldrum School in Melbourne. He planted and cared for many of the trees and shrubs in the SMB grounds, and kept a beautiful garden at his private residence.
Robinson died aged 58 at Wendouree on 25 May 1935 and was cremated at Fawkner Cemetery on the same day.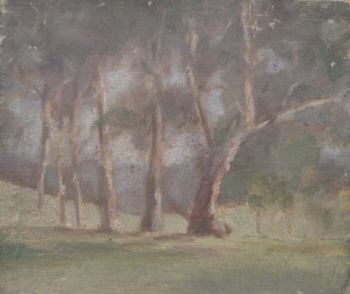 The SMB Students' Magazine 1935 recalled Though for a considerable period Mr Robinson had been in indifferent health, his enthusiasm for work was not diminished. Ever a lover of nature, his chief recreations were his garden, in which he cultivated the choicest flowers, shrubs and trees, and the study of art to which he devoted much of his leisure. His many canvases reveal the sincerity of his work and represent a notable achievement from one who adopted art somewhat late in life.
Most of the trees and shrubs which add to the beauty of the School grounds, were planted and cared for by Mr Robinson; they will serve as a fitting monument to his memory. Both past and present students, and members of the staff and Council, will long remember his kindly nature and personality. ...
This biography prepared by Clare Gervasoni, 20 December 2010.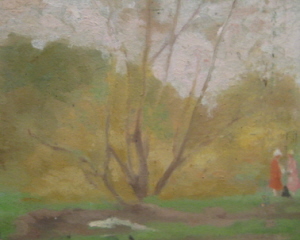 Image caption (top): John B. McK. Robinson, 1921 (Cat.No.481)
Image caption (centre): John Robinson's 1930 painting Mt Helen (private collection)
Image caption (lower): John Robinson's 1930 painting Fairy Land, Lake Wendouree (private collection)