Ken OGDEN
Engineer
Ballarat School of Mines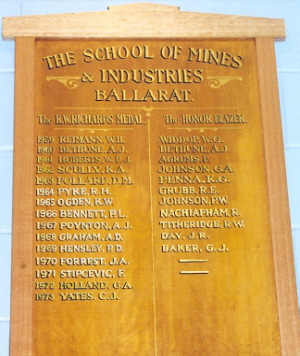 In 1966 Ken Ogden received a Diploma of Civil Engineering from the Ballarat School of Mines (SMB). The previous year he won the prestigious Dick Richards Medal. Ken Ogden completed further study at Melbourne University, and obtained a PhD from Monash University.
In 1969 Ken Ogden was appointed to the Monash University Transport Group, leaving in 1996 to take up the position of Manager, Policy and Planning with the Royal Automobile Club of Victoria (RACV).
Ken Ogden wrote the 1995 government strategy for transport in Melbourne 'Transporting Melbourne", and plays an active role in influencing Victorian transport policy through his role with the RACV.
This biography written by Clare Gervasoni, 1 June 2006