William Henry Middleton (1864-1940)
Master Plumber
SMB President (1912-1940)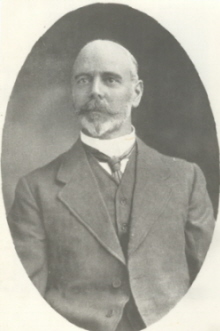 Born 23 March 1864, Wedderburn, William Middleton's family moved to Buninyong when he was two years old, and Ballarat when he was ten. Middleton managed the plumbing and gas fitting firm 'Middleton and Morris, which was launched in 1888, first in Armstrong Street, then in Sturt St Ballarat. The firm expanded rapidly and was responsible for many big contracts in Ballarat. Middleton married Elizabeth Jane Mitchell and they had eight children.
President of SMB Council from 29 November 1912 to 1 June 1940, Middleton was also Foundation President of the Technical Schools' Association of Victoria (1916-17). He was a foundation member of the Church of England Grammar Schools - both girls and boys, and sat on the Councils since each was brought into existence. For many years Middleton was associated with the Art Gallery, Progress Association, Railway Users' League, Employers' Federation, and many other such organisations.
Middleton had many community interests. Having a good voice he was a member of the Liedertafel under John Robson and George Herbert, and was a member of the All Saints Choir for 55 years. During the early years of the South Street Competitions he competed in many Choral competitions, and was president of the Ballarat Musical and Operatic Society. He was the patentee of the 'Cresent Air Petrol Gas Machine'.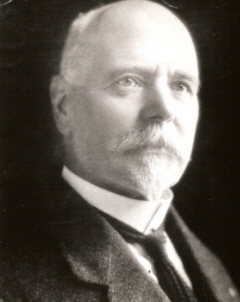 William Middleton died on 1 June 1940 at Novar Hospital, Ballarat. The 1940 SMB Student Magazine noted: 'Mr Middleton, who had been in poor health for some time, died in June last. His interests were wide, and compromised a flourishing business, musical societies, the Anglican Church and schools, and last, but not least, the School of Mines. Mr Middleton reached a span of years over the allotted span; and his busy and well-spent life is an incentive to usefulness for those who still carry on. It was a fitting tribute that a very large number of Ballarat citizens, including the staff and students of this School, sorrowfully took part in the funeral service of the 3rd June.'
This biography was researched by Clare Gervasoni, July 2009.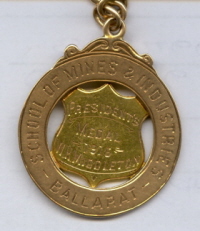 Image caption (right): William H. Middleton (Cat.No.477 )
Image caption (left): William H. Middleton (Cat. No. 7645 - Gift of Robert Middleton)
Image caption (lower right): SMB President's medal awarded to John Dulfer in 1917. (Cat.No.4194 - Gift of William Dulfer)