Steve Moneghetti
International athlete
Awarded an Honorary Doctorate from the University of Ballarat in 2001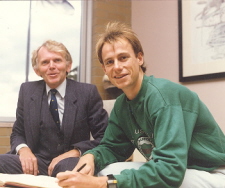 Steve Moneghetti was born in Ballarat where he is still affectionately known by the nickname 'Mona'. He is one of his hometown's most popular and respected sons and the City of Ballarat accorded him its highest honour when it presented him with the key to the city on 2 May 2001. The University of Ballarat (UB) further recognised his outstanding contribution to sport and the Ballarat community when it presented him with an honorary Doctorate the following day.
Mona commenced his early education locally at St Columba's PS in 1967 before progressing to St Patrick's College where he completed his HSC. He undertook his tertiary studies at one of UB's predecessors, the Ballarat College of Advanced Education (BCAE) where he graduated with a Bachelor of Engineering (Civil) in 1985, and a Diploma of Education (Mathematics/Science) in 1987.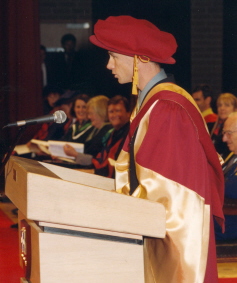 On Wednesday, 2 May 2001, the Ballarat Courier announced UB's decision to award an honorary Doctorate to Steve Moneghetti. The headline on its front page read:
"DR MONA - In many different ways, Steve Moneghetti has played an important role in our community. This week we salute him, first with a celebration dinner and then with an Honorary Doctorate."
In an accompanying interview, Mona expressed (in his usual modest way) the hope that he was being given the honour in recognition of the fact that he was a normal person who had worked very hard to fully realise the potential he was born with. "I am not that academically intelligent, but I am good at utilising the resources around me. I fit a lot into my day." However, his long-time coach Chris Wardlaw offered another more commonly held opinion: "Mona is an intelligent guy. It's pretty hard to be that good at anything - poet, runner or chess player - without having some basic intelligence." Wardlaw credited Mona's intelligence with his success in running before learning of UB's decision to award him an honorary Doctorate. UB's decision to present an honorary Doctorate to Moneghetti also recognised the excellent ongoing working relationship it continues to enjoy with him.
The University is proud of the achievements of many of its graduates who have like Mona, joined the ranks of the world's most acclaimed and successful individuals, personally and professionally.
This biography compiled by Di Campbell, 2 January 2006
Image caption (RHS): Steve Moneghetti (RHS) and John Sharphem. (Cat. No. 6541)
Image caption (LHS): Steve Moneghetti receives his Honorary Doctorate, 2001