Monica Miller (1900-1995)
Ballarat Teachers' College
Music Lecturer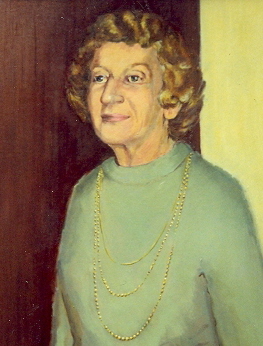 Former Ballarat Teachers' College (BTC) students from 1946 to 1965 remember music lecturer Monica Miller with great fondness. Many former students jealously guard their copies of the Ballarat Teachers' College Song book, and with little prompting start singing songs such as 'Extra Muros', 'B-A-L-L-A-A-R-A-T', 'Laughing Song', or 'We Want Everybody Happy', such was Monica Miller's musical influence on her students. In 1989 former student Maureen Fithall was quoted as saying "We used to sing every morning with Monica. She is a wonderful lady, always cheerful. I think she loved her students, so we loved her back. She gave us joy, so it was reciprocated.'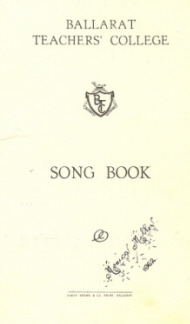 Monica Miller was taught to sing by Ballarat Teacher Madame Warburton, and in her youth competed as a singer in Ballarat, Bendigo and Geelong. She received her early musical training in piano, violin and singing at Ballarat's Loreto College. Monica Miller was runner up in the Sun Aria, coming second by one point. She started lecturing at BTC in a few rooms at the back of Dana Street State School, and retired from the Gillies Street Teachers' College site.
Speech Training was also the domain of Monica Miller at BTC. Her Speech Training class notes include: Voice, Articulation parts, Correct positions for consonants, vowels and diphthongs, Phonetic Stules, Correction of Speech Defects, Speech Training in the schools, Poetry Appreciation, Rhythm, Lessons for county classes, Lessons for Student Teacher Classes and Lessons to Grades.
At the time of Monica Miller's retirement Garry Dark, Editor of the BTC student newsletter, 'Standard', wrote: 'Last term saw a very sad day in the history of the Ballarat Teachers' College. I am sure everyone will join with me in wishing Miss Miller a long and happy retirement. All students know, ... the enormous amount of time and energy Miss Miller has devoted to her work in this college. One has only to remember last year's graduation ceremony to realise this. It is well known that the choral section is the most outstanding section of the Teachers' College graduation. This is by no small means due to Miss Miller's untiring work. Apart from the Graduation Ceremony, Miss Miller sends students from this college into their school very well equipped to teach singing to youngsters. ... Not only will we miss Miss Miller as a teacher but we will also miss her as a friend. I feel that all people who have ever been associated with Miss Miller would be honoured and proud to call her their friend. As well as this she has set a shining example for all young, would-be teachers.
Monica Miller died on 25 February 1995. The priests who celebrated the requiem mass commented on how splendid the singing was. Former Ballarat Teachers' College students in attendance reported 'looking around at the assembled gathering afterwards, saw so many happy faces, and thought yes, indeed, Monica would have been pleased.' The Reunion Committee ladies had sent the family a floral tribute which stood out amongst the others in [the BTC] shades of blue and gold.' (BTC '49ers Newsletter 1995)
This biography prepared by Clare Gervasoni, 25 January 2006, updated January 2007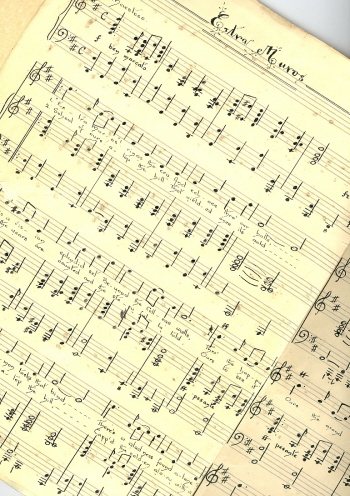 Image caption (RHS): Portrait of Monica Miller by former student Margaret Bennett
Image caption (LHS): Title Page of Monica Miller's BTC Songbook featuring Monica's autograph in her beautiful script (Cat.No.6166)
Image caption (RHS):The original music for the Ballarat Teachers' College Song 'Extra Muros'. The song was written by Helen Ellis at the instigation of BTC principal W.H. Ellwood in 1926. (Cat.No.6155)