John Thomson McKenna
Mine Manager
Ballarat School of Mines (1871-3)
John McKenna was the first to graduate as a First Class Mine Manager in Australia, obtaining his certificate from the Ballarat School of Mines in 1872. Kenna reported in the Cyclopedia of Victoria (1905) that Ballarat 'for practical mining is the centre of intelligence and skill in the State, if not in the continent.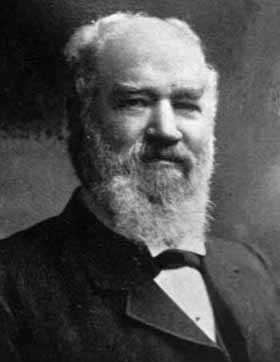 Born around 1842 at Mullagh, Cavan, Ireland, McKenna's earliest education was in Dublin where he studied Civil Engineering. McKenna arrived in Victoria aged 21. After a few months in Melbourne he joined the rush of diggers to Gaffney's Creek and Wood's Point. After three years in that district he worked in mines at Walhalla for another three years. Intending to go to New Zealand, McKenna instead proceeded to Ballarat where he worked various mine contracts before being appointed Captain of Shift at the Band and Albion mine. He held that position for three years, spending his spare time studying at the Ballarat School of Mines.
Darwin was McKenna's next destination where he managed a mine for a South Australian company for thirteen months before returning to Ballarat and his wife and child. The worked at the Lothian Gold Mining Company at Clunes for the next 6 years, the last part as underground manager. Over the following decades McKenna worked at the following mines:
Phoenix Gold Mining Company, Rocky Lead (manager and engineer)
Home Paddock Gold Mining Company, Smeaton (manager and engineer, 9 years)
Lady Hepburn Gold Mine, Smeaton (manager and engineer)
Kabonga Company Limited, Smeaton (manager and engineer)
Sydney Propriety Company 'Taranganba, Central Queensland (general manager, putting up a large dry-crushing, ore-roasting and chlorinating works)
Returned to Ballarat
Great Southern Mining Company, Rutherglen (mine manager)
Waggunyah Company, Rutherglen (mine manager)
McInerney Gold Mine, Gundagai, NSW (mine manager)
Returned to Ballarat
In Cyclopedia of Victoria McKenna was also listed as manager of Lallah Rookh, Pitfield and Williams' Fancy G.M. Co., Berringa. At that time he recommended Berringa from a mining investor's point of view the most promising field in the State.
John McKenna married Emma Kohl (nee Good) at St Alipius' Ballarat in 1873. Their children were John, Nicholas Thomas, Arthur, Catherine (Kate), Margaret (Maggie), Peter Alexander, Patrick George, William Henry. John and Emma's son, Nicholas Thomas (Tom), also studied mining at the Ballarat School of Mines (1897-1900).
This biography compiled by Clare Gervasoni, with thanks to the research of Helen Murphy, June 2012.
Image Caption: John McKenna as depicted in the Cyclopaedia of Victoria, 1905.