William Longstaff (1879-1953)
Artist, Boer War Veteran
SMB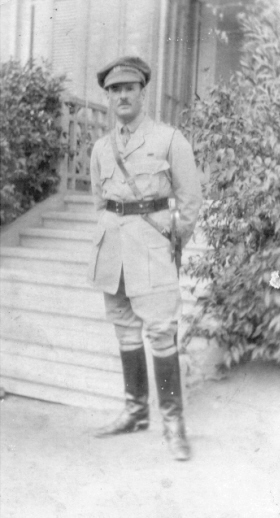 Born at Ballarat on 25 December 1880, William Frederick Longstaff was a cousin of John Longstaff. William was a student at Ballarat's Grenville College, and also studied freehand drawing at the Ballarat School of Mines in 1890, as well as privately. He sailed to London as a twenty year old to pursue his art education, but joined the British forces in the South African war at Durban before reaching his destination. He served as a trooper in charge of remounts with the South African Light Horse for 16 months from 6 April 1900.
After returning to Ballarat Longstaff once again set sail for London, escaping an unsuccessful marriage. William Longstaff studied at Heatherley School of Fine Art in London in 1908, and Vivian's in Paris. During his time in Paris the 'Fauve' movement was developing. William Longstaff returned to Victoria teaching art privately in 1910 and with Leslie Wilkie in 1911. Longstaff joined the AIF in October 1915, embarking for Egypt in November with the 1st Australian Remount Unit. His file includes a letter outlining his Boer War experience and the following lines 'Have been amongst horses all my life and have a pretty good knowledge of their ailments , also their good and bad points.' He was invalided to England in October 1917, and in 1918 worked in camouflage before being appointed to the 2nd Divisional Division Headquarters as a divisional artist under the Australian Record Section War Art Scheme. At the end of the war William Longstaff applied to be discharged from the army in England so he could return to France to complete a series of battle pictures with the intention of exhibiting them in Australia the following year. William Longstaff his known for his work 'Menin Gate at Midnight' which is in the Australian War Memorial Art Collection.
Longstaff was living in London in 1932, at the time of the Great Depression, and he turned to portraiture and watercolour landscape to make a living. He died at Littlehampton, Sussex on 1 July 1953.
This biography prepared by Clare Gervasoni, October 2007, updated 05 July 2012.
Image caption (RHS): William Longstaff in uniform (Cat.No.4229)