William Frank LORD ( -1969)
Teacher and soldier - Ballarat Teachers' College 1946-1950
After the closure of the Ballarat Teachers' College in 1931, it reopened at Dana Street Primary School in 1946 with Frank Lord as Principal.
Frank Lord's first school was at Cobrico where his father was a dairy farmer. The Lord family moved to Melbourne in 1907, Frank enrolling at Melbourne High School in 1910. In 1912 he was appointed Junior Teacher at Carnegie, Inspector Armitage reporting that he kept very good discipline and taught well. After a break from teaching during World War One, Lord was appointed temporary assistant at Errol Street, North Melbourne until 31 July 1919 when he was awarded the Trained Teachers' Certificate, Manual Arts. He spent four years at Glenhuntly; three years at Paynesville, three years at Merino, and in 1927 was appointed to the Melbourne Teachers' College. The following year Lord worked at Woorinen, and soon after he spent two years at Carlton, and two years at Melbourne High School. By 1932 he was at Elwood, followed by Malvern East and Albert Park, before returning to Melbourne Teachers' College between 1937 and 1945. Lord was Principal of Ballarat Teacher's College from 1946 to 1950, taking up the appointment of Toorak Teachers' College's first Principal in 1951.
On 17 August 1914 Frank Lord enlisted as a gunner in the Australian Imperial Forces, taking part in the Gallipoli landing on 25 April 1915. Family tradition states that Lord was one of the first 19 men to land on Anzac Cove. In 1916 he was sent to France and fought at Armentieres and was awarded the Military Medal at Pozieres. On 27 September 1917 Lord was awarded the Military Cross, the citation stating 'For conspicuous gallantry and devotion to duty. When his Battery was for a long time under heavy hostile shell and machine-gun fire and had suffered severe casualties, he moved about amongst the men, assisting to serve the guns and maintaining the morale of the Battery by his cheerfulness and splendid gallantry under the most trying conditions'. Lord returned to Australia on 17 April 1919.
At Ballarat Lord sometimes addressed outside assemblies mounted on his white horse 'Major'. Lord's white Samoyed dog 'Bruin' was apparently considered the equal of staff members, and often walked through the college grounds preceding Frank, warning students of the Principal's arrival.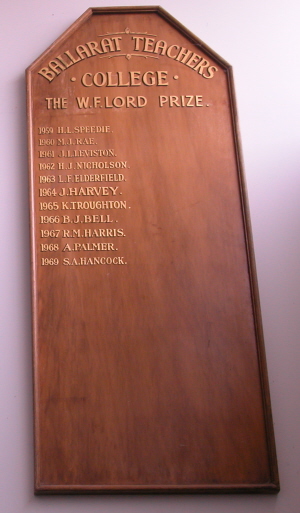 In 1958 a 3-year Trained Infant Teachers' Certificate course was introduced to the Ballarat Teachers' College. The W.F. Lord Prize was awarded to the dux of the course at Ballarat until it ceased in 1969.
This biography compiled by Clare Gervasoni, March 2006, using the research of Former BTC student Wal Wall.
Image Caption (LHS): Ballarat Teachers' College W.F. Lord Prize Board. Winners of the Lord Prize include H.L. Speedie; M.J. Rae; J.L. Leviston; H.J. Nicholson; L.F. Elderfield; J. Harvey; K. Troughton; B.J. Bell; R.M. Harris; A. Palmer; S.A. Hancock. (Cat.No.5755)