Ruby Helen LONIE (1895-1979)
Staff member and acting-registrar
Ballarat School of Mines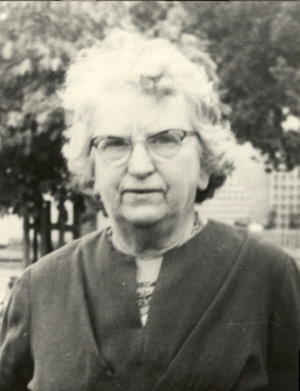 Ruby Lonie was Senior Clerk of the Ballarat School of Mines (SMB) Administrative Staff. Always known as Miss Lonie, her sole position was at SMB where she worked between May 1914 and May 1960.
When the SMB Registrar, John Robinson, died in 1935 the question of who would fill the position became a matter of urgency. The temporary answer was Miss Lonie, who was the senior clerk on the Registrar's staff. The permanent position was looked upon as an exclusively male preserve.
At Miss Lonie's retirement function SMB President, M.B. John, noted that Miss Lonie had joined the staff in 1914 and had 'done a tremendous job since that time, and for many years had been the Registrar's "Right Hand Man". Twenty Four years after having acted as Registrar the current SMB Registrar, F.F.Ferguson recognised Miss Lonie's assistance and her extensive knowledge of the history and the administrative procedures of the School. He added 'I have noted on many occasions Miss Lonie's kindly interest in people in times of sickness or difficulty and her willingness to help.' Current and former staff members were keen to acknowledge Miss Lonie. Former Principal Dick Richards said 'That Miss Lonie had been in this one job all her life is a great tribute to the school, and the Council is conscious of her devoted service.' The Principal, Mr Arblaster, on behalf of himself and the staff presented Miss Lonie with a gold watch and wished her well in her retirement. The next day Miss Lonie, along with Hestor Darby, the SMB Typewriting teacher who was on long service leave, sailed from Melbourne for London, mainly to visit Scotland.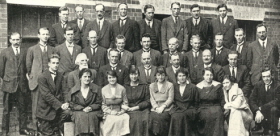 Former SMB staff member Heather Durant remembers Miss Lonie making toast on her one bar heater, and many other people who worked with Miss Lonie remember her fondly.
This biography written by Clare Gervasoni, 25 May 2006
Image Caption (RHS): Helen Ruby Lonie (Cat.No.4795)
Image Caption (LHS): SMB Staff, 1921. (Cat. No.0214)
Back Row L-R: L. Leroux; Ken Moss; J.M. Sutherland; E.J. McConnon; ? ; Hubert Murphy; R.W Richards; (Reg Callister?)
Second Row L-R: W. Rowbotham; Albert E. Williams; D.I. Johnston; S.H. Mayo; H.G. Wakeling; F.N. King; W.H. Steane; W. Kenneth; Dr James R. Pound; ? ; L. St. G.P. Austin
Third Row L-R: H. Ellis; Alfred Mica Smith; A.F. Heseltine; W.H. Middleton; H.H. Smith; Albert W. Steane; H. Jolly; J.B. Robinson
Front Row L-R: M. Williamson; A. Jones; ? ; ? ; RUBY H. LONIE; M. Bell; Mrs McIlvena; V. Elston (librarian)