Alfred Gresham Johnston (1872-1901)
Killed in Action during the Boer War
Ballarat School of Mines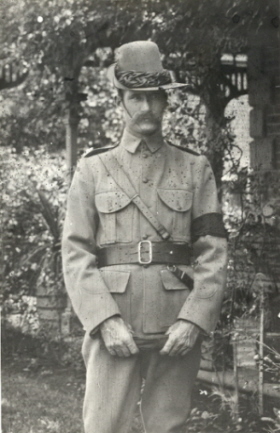 Former SMB mining student Alfred Johnston was the son of Charles Johnston of Cork, Ireland, and Elizabeth Jameson, the family owning a large furniture store in Fitzroy. Alfred joined the Fifth Victorian (Mounted Riffles) contingent at the Melbourne suburb of Hawthorn.
The October 1901 Ballarat School of Mines (SMB) Students Magazine reported 'Alf. Johnston's gone. The news came as a shock to all of us at the school. He who was with us a few short months ago, in all strength of sturdy manhood, has met a soldier's death in South Africa, and we sincerely mourn his loss.... His heart was in the school, and he did his best to further its interests ... His last act on leaving Australian shores was to send a telegram from Albany to Prof. Mica Smith, to whom he was warmly attached, wishing the School and all connected with it "Good-bye". In his short, all to short, life of 29 years, he had more adventure than falls the lot of most men, and possibly the spirit of adventure, and also, of duty, prompted him to throw in his lot with the "colours," and leave for the front. The news of his death comes to us with added weight of sadness when we remember that he was one of the organisers of the School entertainment last year to help swell the fund for the erection of a statue to fallen Victorian soldiers.'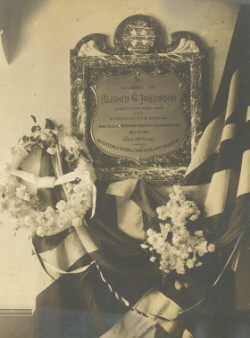 The SMB Annual Report of 1901 recognised the loss of one of their students: 'Mr Johnston was, until the date of his leaving for active military service in South Africa, one of our students. While here besides being regarded as a general favourite for his urbanity and manliness, he was noted as a faithful, diligent, and most successful student. The news of Lieutenant Johnston's death cast quite a gloom over the school and it was early decided that in addition to a letter of condolence sent to his parents a bronze tablet, suitably inscribed, be erected to his memory in some prominent part of the school. On the 4th November last the ceremony of unveiling the memorial tablet was performed by Professor A. Mica Smith in the presence of several members of the late Lieutenant A.G. Johnston's family, the President and Members of Council, the Staff and Students of the School, and a number of prominent citizens.
Lieut. Alfred Johnston was killed on 7 May 1901 at Rhenosterkop, Middleburg district, Transvaal. When the news reached Ballarat the students wrote 'Alfred Gresham Johnston has passed away, and his passing has left many a sorrowing heart amongst his troop of friends everywhere. Outside of his home circle, none will miss him more than his old friends - Professors and students alike - of the Ballarat School of Mines. Farewell, Alf., a long farewell.'
Alfred Johnston is buried in an unlocated grave. His SMB friends decided to erect a tablet at the school to the late Lieutenant Johnston. An appeals for donations was made, the SMB students magazine reporting that it had 'met with a handsome response from past and present students.' The SMB Council augmented the fund, and the memorial was dedicated with great reverence.
This biography compiled by Clare Gervasoni, April 2006.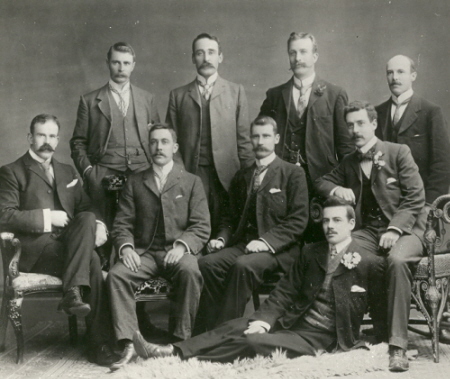 Image Caption (Top RHS): Lieut. Alfred G. Johnston in the uniform of the Fifth Victorian Mounted Rifle Regiment, c1900. (Cat.No.6667)
Image Caption (Top LHS): SMB Memorial Tablet dedicated to Alfred Johnston 'An esteemed student and a gallant soldier'. (Cat.No.531)
Image Caption (Lower RHS): SMB Mining Students, 1899. Back Row L-R: B. Nicholls; B. Sawyer; W. Bolte; T. Fleetwood. Front Row L-R: A.R. Reid; A.S. Burdekin; Alfred G. Johnston; W. Cairnscross and O. Kelly (Cat.No.6667)
Image Caption (Lower LHS): Obituary for Alfred Johnston from the SMB Students Magazine.