Lindsay Frederick John HILLMAN (1910-1991)
Lecturer and Council Member
Ballarat School of Mines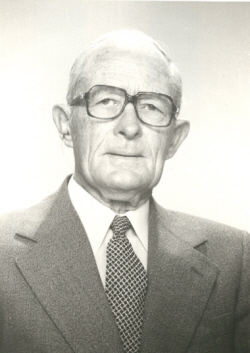 L.F.J.Hillman was associated with the Ballarat School of Mines (SMB) as a student, teacher (including over 20 years as Sports master) and member of the Council for over 70 years.
Lindsay Hillman enrolled as a student at SMB c1921. He was a member of the Herald Shield winning SMB Athletics Team of 1926. In 1928, and again in 1929, he was awarded the Honour Blazer by the SMB Old Boys Association for all round athletic ability, leadership and scholarship.
Upon gaining his Diploma of Electrical Engineering at SMB Hillman spent nearly two years with the Melbourne City Council Electric Supply Department. He returned to SMB in 1932 to teach apprentices and senior students. He was appointed lecturer in Engineering Design and Graphics in 1937, and Civil Engineering in 1944. Hillman became Head of the Electrical Engineering Department in 1949, a position he held until his retirement in 1973.
In 1975 Lindsay Hillman was appointed to the SMB Council. The L.F.J.Hillman Recreation Building was opened and named in his honour in 1984, recognising the many years of association Lindsay Hillman had with SMB. (See Former LFJ Hillman Recreation Building)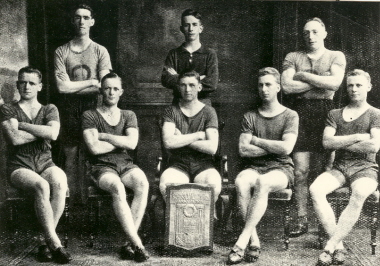 Death claimed Lindsay Hillman in May 1991, aged 81. In 1992 Jack Barker wrote of Lindsay Hillman: 'I refer first to Lindsay Hillman himself as an exceptional person - student and versatile sportsman; teacher, organiser and administrator; and, in more recent years, Councillor and policy maker.' Jack Barker recognised the amazing changes which had occurred during Lindsay Hillman's association with SMB. '... there is the timing in history from 1921 to 1991 - and all of the remarkable changes in national attitudes and affairs, in social outlook and in technological progress - linking across the colourful personalities of the early SMB to those of the present; from the institutional Jubilee to beyond its centenary, through World War I, World Depression, World War II, boom and recession, from steam locomotive to jet propulsion; from cast iron to plastics; from logarithms to computers; from the mystery of the crystal set to the wizardry of electronics. ... Throughout the seventy years from 1921 to 1991 Lindsay remained unswerving and loyal in his support for the School of Mines, for technical education and for Ballarat. He had an acute sense of responsibility and care for them and a strong will to make his views count to their benefit. He had a strong dislike for red tape, bureaucratic and administrative intervention, and humbug. He preferred always to take the direct route to the end point he had in view. He always worked hard in the interests of his students and his more junior staff.'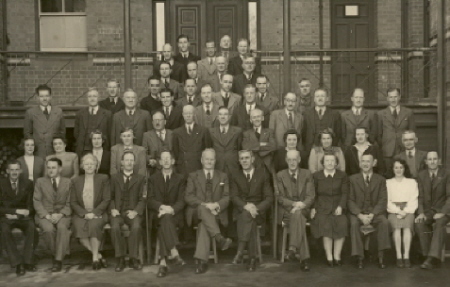 The year 1992 saw the initiation of the annual award of the L.F.J. Hillman Memorial Medal. It has a two fold role - to honour and perpetuate the memory of the man for whom it is named; and to honour a young person emerging in Lindsay's own professional field with qualities in the broad field of interests that he displayed during his life.
This biography researched by Clare Gervasoni, June 2006.
Image Caption (top RHS): Lindsay Hillman. (Cat.No.471)
Image Caption (top LHS): SMB Athletics Team, 1926. (Cat.No.4504)
Back row L-R: Jock Sutherland, Herb Morris, Ned Roberts.
Front row L-R: Oliver Roberts, Lindsay Hillman, Les Evans, Fred Ewert, Bob Collins.
Image Caption (top RHS): SMB Staff, 1946. (Cat.No.217)
Back row L-R: F.L. Collins, A.W. Bridson, J.J. Hanrahan, H.Brew, G.W.Cornell.
Second row L-R: J.T.Collins, R.W. Whitla, S.Mayo, Neville Bunning
Third row L-R: L.O.Brown, G.V. Bergin, R.R.Watson. T. Kellock, A.J. Murdock, R.W.Richards
Fourth row L-R: A.C.Miller, A.V. Gilpin, T.R.Gordon, R.P. Flower, Harold Yates, D. Mullins, T. Trengove, W.Wilkinson, Lindsay Hillman, D. Fairbank
Fifth row L-R: A.Johnson, A. Jones, M. Fogarty, Hester Darby, J. Allsop, W.Patterson,A.Lambert, H.Goldsmith, M. McTaggart, C.King, M. Harland, F.G.Proctor
Front row L-R: N.W. Penrose, R.R. Clader, S.Williams, Dr Pound, C.F.Jeffrey (BJTS Principal), A.F. Heseltine (SMB Principal), D.I.Johnson (Head of Art). J. Sutherland, R.H. Lonie, F.E.Ferguson