Charles Archibald HOADLEY (1887-1947)
Ballarat School of Mines (SMB)
Antarctic Explorer & Geologist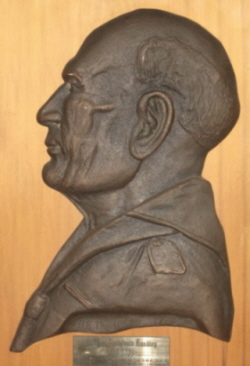 Born in Burwood Victoria, Charles Hoadley was educated at Wesley College from 1901 to 1904, and obtained a Bachelor of Mining Engineering from the University of Melbourne in 1911. Between 1911 and 1913 Hoadley was a member of Douglas Mawson's Australasian Antarctic Exploration Expedition, working as a Geologist to the 2nd Base at Queen Mary Land. Upon his return he completed a Master of Science at Melbourne University. In 1915 Hoadley was awarded the King's Polar Medal, and Cape Hoadley in Antarctica is named after him.
In 1914 Charles Hoadley was appointed Senior Lecturer in Engineering at the Ballarat School of Mines (SMB). Upon his appointment at SMB the Courier reported: 'Mr C.A. Hoadley M.Sc, B.M.E., comes to the School with a high reputation as a scholar and teacher; and the fact that he did excellent work as a member of Dr Mawson's expedition to the Antarctica is ample proof of his pluck and energy ... [he] should be a decided acquisition to the teaching staff.' Charles Hoadley left to take up a Principalship at Footscray Technical School in 1916, and remained in that position until 1947.
Upon Charles Hoadley's resignation the Ballarat Courier reported: "The staff and scholars of the Ballarat School of Mines will regret to hear that they are to loose Mr A.C. Hoadley, who has been appointed head of the Footscray Technical School. Mr Hoadley was one of the tutorial staff at the School of Mines, and secretary of the School Science Club, and is known to a still wider circle as one of the party which Dr Mawson led to his South Polar expedition."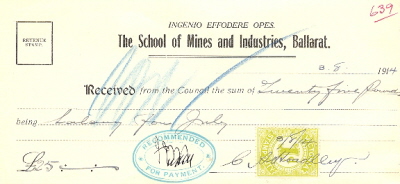 Hoadley joined the Boy Scout Association in 1919, and was Chief Commissioner of the Victoria Boy Scout Association in 1928 to 1937. The scout area of Moonee Ponds is named the Hoadley Area in his honour. Charles Hoadley was made a Commander of the Order of the British Empire (CBE) in 1936. In 1934 Baden Powell personally conferred on him the honour of the Silver Wolf.
Hoadley died at Footscray on 27 February 1947. The SMB Student Magazine remarked: 'Mr Hoadley was an active personality, whose death is a great loss to the Technical Schools of Victoria. We offer our condolences to his family.
This biography was researched by Clare Gervasoni, June 2008, and updated March 2009. If you are able to assist with information or an image of Charles Hoadley please email c.gervasoni@federation.edu.au
Caption (right): Charles Hoadley by B.E. Thomas (Cat.No.UB729)
Caption (left): Charles Hoadley's salary receipt, 1914. (Cat.No.7917.63)