John Hogan GERVASONI
Teacher, Footballer (Australian Rules), Mayor
Ballarat Teachers' College, 1949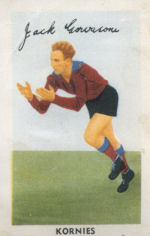 John Hogan (Jack) Gervasoni was born at Daylesford in 1929, the great grandson of an Italian pioneer who settled at Yandoit Creek. Jack was educated at Daylesford's St Michael's Primary School and Presentation Convent (now Convent Gallery). Upon deciding to become a teacher he enrolled at the Ballarat Teachers' College (BTC) in 1949. This became an incredibly important year in his life with many positive memories of the times and people he studied with. In 'A Gladness Found', a book which celebrates the life and work of those who attended BTC in 1949, Jack fondly remembered 'the sense of togetherness - of belonging.' Other memories of his time at BTC were the unusual things: 'the fire in his hut at Queenscliff when someone lit a Herald to look for a splinter; Mary rowing Ron Edmonds across Lake Wendouree, Dave Harrison's entrances through the windows after Assembly on Monday mornings and bat tennis with Lewis, Lampard and Lannen.'
Gervasoni was a great sportsman, playing football for the Teachers' College, and Ballarat Football Club. Often asked who taught him to play he would proudly reply 'Sister Christopher', his favourite teacher at 'the Convent'. He was recruited to Fitzroy Football Club from Ballarat, wearing the number 4 for the 90 VFL games he played between 1951 and 1956. After retiring from Fitzroy Gervasoni was appointed Captain Coach at Northcote Football Club. He represented Victoria in the 1957 VFA match against South Australia. From 1983 Gervasoni played "A" division bowls, and was a member of the winning Kew Bowling Club White Pennant team.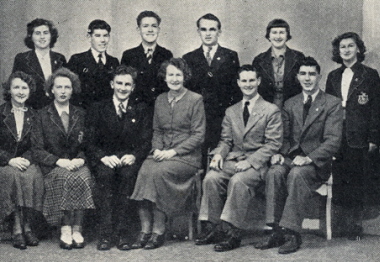 Due to football commitments Jack Gervasoni became the first of his BTC year to resign from teaching, working for Treasury, then spending 17 years in a news agency at North Kew where his teaching skills came to the fore with generations of 'paperboys' lining up to work for 'Gervo'. Returning to teaching in 1976 Jack taught at Burke Hall, Xavier Preparatory School. He died in 1992, at which time Burke Hall named a football oval after him. The highlight of his teaching life was the moment he realised he had actually taught his first Prep student to read. There were many other highlights to follow, as he proudly watched the careers of past students, many who excelled in sport.
Gervasoni was known for his community work. Elected to the Kew City Council in 1971 Gervasoni served as Mayor in 1978. He was a Trustee of the Yarra Bend Park and President of many local organisations. He saw his work with youth and recreation as a great achievement in his life, and was honoured by having the change rooms at Kew's Willsmere Park named after him.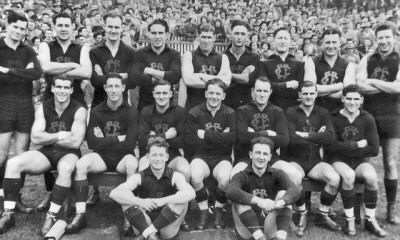 This biography was researched by Clare Gervasoni, November 2006
Image caption (Top RHS): Kornies Football Card for Jack Gervasoni. Always enjoying a laugh Gervasoni would photocopy his football card and present each member of his class a copy for their football card collection. Each year Gervasoni's class would be told of his on field antics, including the time he leaped so high for a mark his shorts got caught on the goal post on the way down!
Image caption (LHS): Ballarat Teachers College Social Committee, 1949. (Cat. No. 3841) Back Row L-R: Gladys J. White; Lindsay A. Campbell; J.M. Pentney; Brian J. Heron; F.L. Lorraine English; Maureen Godfrey. Seated L-R: Pam J. Hudson; W.J. Joan Cook (Secretary); John H. GERVASONI (President); Monica Miller (Staff); E.N. Neil Tippett; John W. Blackie (Secretary)
Image caption (Lower RHS): Fitzroy Football Club. Gervasoni is at the front right.