Samuel Ernest Figgis (1854-1922)
Engineer
SMB (1873-1921)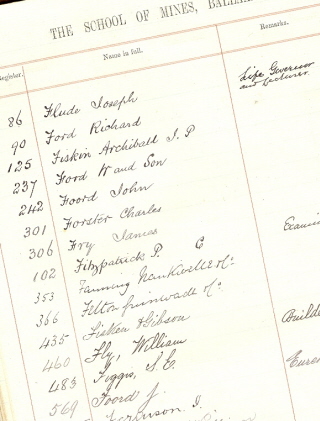 Samuel Ernest Figgis was one of the first to experiment with x-rays at Ballarat, being a pioneer in this field. He was educated at Grenville College, then the School of Mines, Ballarat (SMB). In 1873, registered as number 48, he was one of SMB's first students. He passed his exams in inorganic chemistry in December 1874 and was granted a certificate by the Council of the School of Mines. In 1901 he became a member of the SMB Council and attended for over 20 years. He was president of the Ballaarat Mechanics' Institute in 1912.
Figgis represented Australia in the World's Gas Conference in 1912 and visited England in 1913 to search for ideas for modernising the Ballarat Gas Works. Figgis became the managing engineer of the Ballarat Gas Company and its general manager from 1913 to 1915. Mr Figgis was engineer to the Ballarat Gas Company, and from 1915 to 1922 he had been managing director of the Colonial Gas Association.
He was a keen sportsman, and figured prominently in lawn bowls and cricket. In the cricket match Australia versus Victoria in 1880 he bowled Bonnor twice, and took 12 wickets for 124 runs. The cricket ball, duly mounted and inscribed, was presented to him. One of the best known cricketers in Ballarat, Samuel Figgis held the overall bowling average for the Ballarat Cricket Club for many years. Samuel Figgis was coached by T. Wills, S. Cosstick and Midwinter. In his first year of lawn bowls he won the championship and became the champion of champions for the Ballarat district.
For many years he was a member of St Andrew's Kirk choir being a concert basso. A was also a keen horticulturist enthusiastically growing begonias and bulbs, and was one of the earliest to experiment successfully with colour photography.
Figgis, a member of a family which was very well known in the Ballarat district, died at his residence at Brighton in 1922, aged 67 years, and was buried at Brighton Cemetery, Melbourne. His son, Major William Figgis, served with distinction in the war, in which he received serious wounds, while his daughter Ella served as a chemist in France for the Scottish Women's Army.
Samuel Figgis died on 17 April 1922.
This biography researched by Dot Wickham, November 2005; updated February 2009 with thanks to Diana Figgis
Image Caption (RHS):SMB Governors Index, page 'F'. Names include Joseph Flude, Richard Ford, Archibald Fisken, W. Ford, John Foord, Charles Forster, James Fry, P.C. Fitzpatrick, F. Nankivelle, Felton Grimwade, William Fry, Samuel E. Figgis, I Ferguson, William Fenton. (Cat.No.0459)