William Henry ELLWOOD, M.A., M.Ed.(1889-1972)
Educator
Ballarat Teachers' College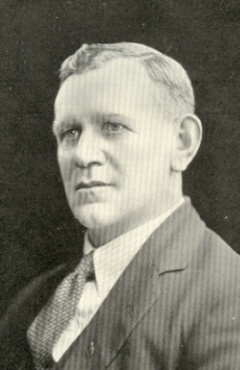 'A Lifetime Devoted to Education' was the headline in the Ballarat 'Courier' at the time of William Ellwood's death. W. H. Ellwood was the first Principal of the Ballarat Teachers' College from 1926 until its temporary closure in 1931 due to the economic constraints of the Great Depression.
The Ballarat Teachers' College under Ellwood was located at the former Ballarat East Town Hall from 1927, at which time there were three members of staff. After the closure the College in 1931, it reopened at Dana Street Primary School in 1946 with Frank Lord as Principal. Ellwood was invited to officially re-open the college.
The high ideals of William Ellwood left an indelible mark on the Ballarat Teachers' College. The college anthem, which instructs students to carry the knowledge gained at teachers' college beyond the walls and into the world of their students, was introduced by Ellwood. He was known for his book 'A Handbook for the Elementary Teacher'. In 1945 Ellwood established a curriculum and research branch in the Education Department, and started a major revision of the primary school curriculum. He hoped the revision process would be continuous and involve classroom teachers in its formation.
In 1946 Ellwood was appointed the first Chairman of the newly established teacher's tribunal for independent determination of salaries and promotions. In his various roles throughout his career Ellwood was able to improve teachers' knowledge, as well as employment conditions. He retired from the tribunal in 1954. Ellwood was a trustee of the Public Library of Victoria from 1945 to 1965.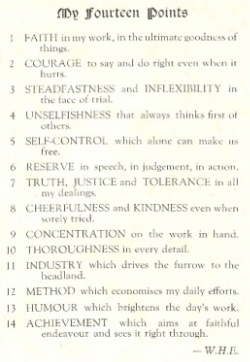 Not only an educator, Ellwood served his country as a soldier. At the outbreak of 'The Great War', Ellwood was a State School teacher in South Gippsland. He enlisted in the AIF on 9 January 1915 and sailed from Melbourne on 28 August 1915 as a Second Lieutenant in the 3rd Reinforcements for the 24th Battalion. Ellwood was severely wounded at Bullecourt on 3 May 1917, but remained on duty and inspired his Company to repel five counter-attacks. For this action he was awarded the Military Cross. He returned to Australia on 4 June 1919 with the rank of Major. From 1929 to 1933 Lieut. Colonel Ellwood was the Commanding Officer of the 8th Battalion, The City of Ballaarat Regiment in the Militia. The current Army Reserve Battalion in Ballarat continues the lineage from Ellwood's 8th Battalion.
The Ballarat Teachers' College W.E. Ellwood prize was given to the Dux of the College, and recognised the excellent service of William Ellwood to the College and to education.
This biography compiled by Clare Gervasoni, April 2006. Updated November 2006 with thanks to Major Neil Leckie, and the Australian Dictionary of Biography.
Image Caption (RHS): W.H. Ellwood (Cat.No.2167)
Image Caption (LHS): W.H. Ellwood's 14 points (Cat.No.2167)
Image Caption (Lower RHS): Ballarat Teachers' College W.H. Ellwood Prize Board. Winners of the Ellwood Prize include M. McKindley; J. Brewster; V. James; C.P. Handreck; R. Arthur; E.J. Major; W.J. Roach; N.J. McHenry; M.D. Brown; B.L. Bishop; M.R. Ladiges; R.M. Dart; H.M. Jesse; R.E. Dale; A.I. Ball; I.F. Edmondson; G. Burt; M.E. Menagorcka; J.B. Henry. (Cat.No.5754)