Glyndwr David EVANS
Mining Engineer (killed in action at Hill 60)
SMB 1903-1905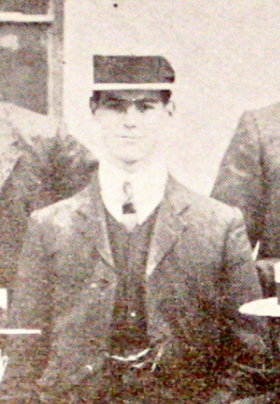 After the World War One armistice the Ballarat School of Mines (SMB) Students' Magazine printed a Roll of Honour. 394 SMB students enlisted during the war, 18 students gained Distinctions, 87 students became Commissioned Officers, and 44 students were killed in action. One of those who paid the supreme sacrifice was 32 year old Second Lieutenant Glyndwr Evans, one of six Australians of the First Australian Tunnelling Company buried at the Railway Dugouts Burial Ground.
Glyndwr Evans was a native of Treorchy in the Welsh Rhondda Valley. He emigrated to Australia with his parents who lived at Randwick in New South Wales. He attended the Ballarat School of Mines, and served on the Student's Magazine Committee in 1905. The following year Glyndwr took up a position as a solutionist at the Golden Horseshoe Mine at Kalgoorlie.
In the application for a commission in the AIF Glyndwr stated at he had completed three years at the Ballarat School of Mines, obtaining a Mine Manager's Certificate of Competency, an Assayers Certificate and additional certificates in Land Surveying, Electrical Technology, Metallurgy and Geology. Glyndwr was a member of the AIF 1st Australian Tunnelling Coy. He was killed in Action at Hill 60 on 25 April 1917 and is buried in Belgium at the Railway Dugout Burial Ground (Plot VII, Row G, Grave 33).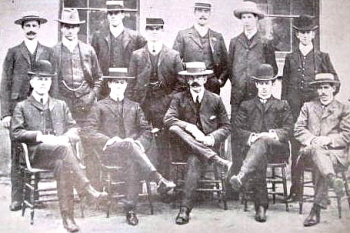 This biography prepared by Clare Gervasoni, April 2010. If you are able to contribute further information please email c.gervasoni@federation.edu.au
Image caption (top): Glyn Evans, 1905 (Cat. No. 533)
Image caption (lower): SMB Magazine Committee, 1905. (Cat. No. 533)
Standing left to right: E.J. McConnon; C. Maginnis; S. Hepburn; GLYN EVANS; W. Figgis; J. Grant; G.V. Anderson.
Sitting left to right: H. Eklun; N. Buley; J.R. Reid; Jack Adam; P. Pratt.