Isobel DOWLING
Educator
Ballarat Teachers' College, BIAE, BCAE, University of Ballarat
Isobel Dowling began her career in tertiary education in Ballarat at the Teachers' College. She finished her career as a lecturer in Sociology and Politics at the University of Ballarat. One of her greatest achievements involved pioneering work towards forging a career in higher education for women.
Many students were lectured by Isobel Dowling, including the former Premier of Victoria, the Hon. Steve Bracks, who described her as "a small, dynamic woman with a great intellect".
An inaugural listing on "Ballarat's Great Women Honour Roll' in 2008, Isobel Dowling died in 2013.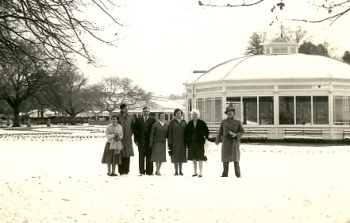 This biography was prepared by Clare Gervasoni, April 2007, and updated in March 2018. If you are able to contribute please email c.gervasoni@federation.edu.au
Image caption (LHS): Ballarat Teachers' College staff at the Ballarat Botanical Gardens after heavy snow.
L-R: ISOBEL DOWLING; Arch Cuthbertson; Howard Pattenden; Mary Egan; Ethel Lloyd; Mavis Canty; Stan McKaskill. (Cat.No. 6908.2)