Walter Douglas Campbell (1879-1891)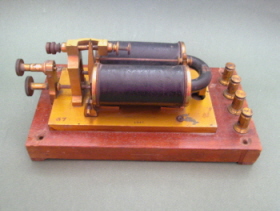 Born 24 February 1853. Walter Campbell succeeded W.P. Béchervaise as lecturer in telegraphy at the School of Mines & Industries, Ballarat (SMB) on 17 April 1879. Campbell was, at that time, also an officer of the Postmaster-General' Department of Victoria.
In November 1888 Campbell wrote to the SMB's Registrar, Andrew Berry in response to the latter's request for details outlining the size and type of room furnishings Campbell and his telegraphy students needed. According to Campbell, 'the largest class we ever had [since 1874] numbered 85.' With regard to future positioning of a new classroom, he requested that, 'it should be easy of access, not upstairs seeing so many of the students are females.'
In his memorandum, Walter Campbell observed that any future refurbishment of his classroom needed to ensure windows were arranged 'as much as possible at the back of the instruments so that the students may have good light for reading off the tape' although this was 'not so important since the introduction of the ink-writing registers into the classroom.' Campbell provided a detailed list of practical and physical needs required by himself and his students. He was anxious to ensure that the Registrar at Melbourne University also understood the School's need to ensure the physical comfort of its telegraphy students received the highest priority if (or when) the Administrative Department's accommodation at SMB was upgraded.
Walter Campbell resigned in early April 1891, and was succeeded by J.A. Dawson A.I.E.E. (London) who took charge of the telegraphy classes at the beginning of second term.
Caption: Telegraph Coder used at the Ballarat School of Mines (Cat. No. 4052)
This biography written by Di Campbell, 23 November 2005