John Henry CALABY(1922-1998)
Naturalist and Ornithologist
Ballarat School of Mines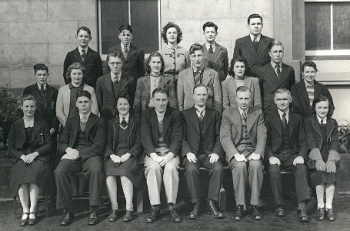 John Calaby was born at Creswick. He obtained a Diploma in Applied Chemistry at the Ballarat School of Mines (SMB) in 1942. Calaby worked for the CSIRO Wildlife Survey Section. From 1972 to 1973 he played a significant part in the Alligator Rivers Region environmental Study.
Described in a CSIRO media Release in 1998 as one of Australia's greatest biologists, John Calaby's long and illustrious career in wildlife biology resulted in a number of animals named after him, including a pebble mouse, several parasitic mites, a fleas and a masked owl.
Caption: Ballarat School of Mines Magazine Committee, 1941
Back Row L-R: R. Spence, I. Grant, I Boustead, K. Palmer, E. Marshman.
Centre Row L-R: A. Stevens, M. Dark, J. Elliott, J. Martin, G. Myers, M. Pierce, J. Gibbs, W. Hender.
Front Row L-R: P. Wells, G. Mounter, P. Martin, JOHN CALABY (editor), Dr Pound, Mr Mein, Mr Proctor, L. Siemering.
This biography is currently being prepared by Clare Gervasoni, June 2008. If you are able to contribute please email c.gervasoni@federation.edu.au