Charles E. CAMPBELL
SMB Photography Student: 1896-1897
SMB Photography Lecturer: 1898-1918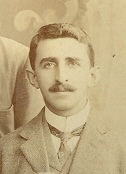 Born at Ballarat, son of Edward E. Campbell, one of Ballarat's early settlers, Charles was educated at Macarthur Street State School and Grenville College. He entered SMB as a photography student in 1896, attained a Pass at Grade 1 level that year, and completed his Grade 2 photography studies (with a Pass) before graduating in 1897.
Charles Campbell was appointed to the position of photography lecturer at SMB when his former teacher, Mr. L.W. Hart retired (appointed 1895) in early 1898. At year's end, the School's 1898 Annual Report stated that 'In Mr Campbell's hands this class in photography has proved a great success and some excellent work in the higher branches of photography, such as collotype, carbon, copper and zinc etching has been done.'
In 1898 SMB's photography class was mainly attended by mine workers who found the knowledge and skill of being able to photograph mining plants, underground workings of mines and various aspects of their own work in mines to be 'exceedingly useful.'
In 1915, SMB temporarily discontinued its photography class 'owing to the pressing need for economy at the beginning of the year.' Other classes to be discontinued during this period included blacksmithing, pattern-making, sheet metal working and sign-writing. However, the photography class was re-opened before year's end under the lectureship of Charles Campbell in the New Art School Building. This decision was fully justified in view of the number of students attending the class, according to SMB's 1915 Annual Report.
From 1901-1903 Charles Campbell held a commission in the 3rd Battalion Infantry, Ballarat. In 1910, he partnered F.S.B. Wilson in the establishment of the firm Campbell, Wilson Pty Ltd, photo engravers and commercial artists. This business operated from premises situated in the London Bank Chambers, Ballarat - meanwhile, Campbell continued to conduct the photography lectures at SMB.
Campbell resigned as lecturer in photography in 1918. According to SMB's 1918 Annual Report he was succeeded by Norman Wood.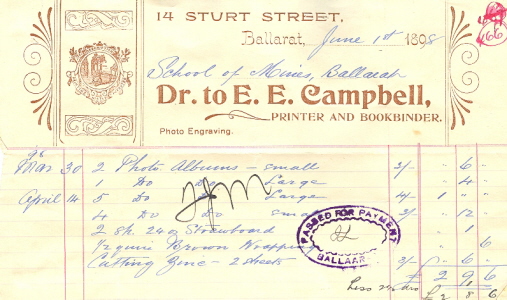 Charles Campbell's father, Edward was an early Ballarat settler who successfully established himself in business as a printer and bookbinder. His firm also offered a photo engraving service. Trading under the name E.E. Campbell from premises located at 14 Sturt Street, Ballarat, it supplied photographic and printing materials to SMB and its students for many years.
This biography written by Di Campbell, 23 November 2005
Image Caption (RHS): Charles Campbell, 1900. (Cat.NO.0112)
Image Caption (LHS): Photography supplies provided to SMB by E.E. Campbell, 1898. (Cat.NO.5422)