Albert Coates (1895 - 1977)
Surgeon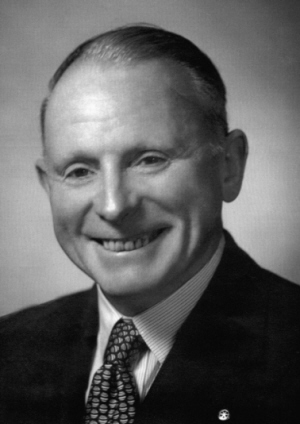 Albert Coates was born at Mt Pleasant. Leaving school at 11 years he worked as a butcher and apprentice bookbinder. During World War One Coates served as a medical orderly at Gallipoli. He was discharged from the Army on 21 February 1919, aged 24, and upon his return to Australia he put himself through medical school by working at night in the postal service. Within a year of graduating, he was appointed acting Professor of Anatomy at the University of Melbourne.
Aged 46, he volunteered for duty during World War II and on 17 March 1942 he became a prisoner of war at Padang Sumatra. He left Padang on 7 May as Medical Officer to a party being sent to Burma, and thereby became involved with the infamous Thai-Burma Railway. Hundreds of lives were saved by his surgical work during this time.
After returning to Australia Albert Coates became Senior Surgeon at the Royal Melbourne Hospital and Stewart Lecturer in Surgery at the University of Melbourne.
On 8 September 2006 the former Mt Helen Union Building was named the Albert Coates Complex. Members of the Coates family were present for the naming ceremony.
The Sir Albert Coates Oration is an annual event at Federation University Australia. The following speeches have been given:
2001 - Professor Bruce Barraclough FRACS, 'Sir Albert Coates - A Life'
2002 - Professor Robin Sharwood AM, 'Finding the Way'
2003 - John E H Edwards MMus, BA, 'Ethics, Morality and Other Things'
2004/5 - Professor Emeritus Geoffrey Blainey, A.C., University of Ballarat Chancellor, 'Australia in Peril: Pearl Harbour to the Coral Sea.'
2006 - Professor Kwong Lee Dow, former Vice-Chancellor pro tem, 'Contrasting Education in the Time of Albert Coates with Education Today.'
2008 - Major General Steve Gower, Director, Australian War Memorial, 'Remembrance and Commemoration'
2009 Dr Lynn Hemmings 'Australian Nurses in the Vietnam War'
2010 A/Prof Bruce Waxman 'Triumphs and disasters: journeys of a surgeon's life'
2011 Professor Mark Hogarth, Burnett Institute 'Medical Research and 21C biotechnology. A triumph over adversity?'
2012 Lynette Ramsay Silver OAM 'Beyond the Call'
2013 Dr Rosalind Hearder "Coates and Co. 'Australian doctors in Japanese captivity during WW2'
2014 Lt General Ken Gillespie AC DSC 'Serving Australia: the ANZAC legacy of Albert Coates'
The Albert Coates Trust offers a number of biennial scholarship to Federation University Australia students.
2003 - Susan Tournier (Nursing)
2004 - Leanne Dunn and Natalie Magri (Nursing), Nicole McWhinney (Visual Arts), Stephen Briody (Engineering)
2006 - Roslyn Armstrong (Nursing) & Esther Hill (Visual Arts)
2007 - Erin McQualter (Nursing)
2008 - Serena Halligan (Nursing) & Cody Joy ((Visual Arts), Prajeesh Puthiyareettil (Engineering)
The Albert Coates Trust Rural Nursing scholarship was first awarded in 2008.
2008 - Breanna Barber (Wimmera Health Care Group, Horsham); Carmen Grenfell (Ballarat Health Services); Deborah Clancy (Rural Northwest Health, Warracknabeal)
This biography researched by Clare Gervasoni, September 2006, updated February 2009.

Caption: Sir Albert Coates