Stephen Phillip Bracks (1954-)
Former Premier of Victoria (1999-)
Ballarat Institute of Advanced Education Student and University of Ballarat Council Member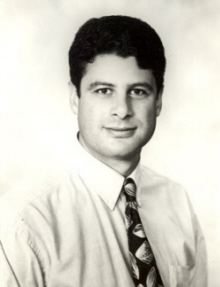 Steve Bracks was Premier of Victoria from 1999 to 2007. Born at Ballarat he was educated at St Patrick's College before enrolling at the Ballarat Institute of Advanced Education (BIAE) where he graduated with a Diploma of Business Studies (Accounting) and a Graduate Diploma of Education (Economics). During his student years Steve Bracks was an active member of the Student Association, and worked with Ballarat Community Radio 3CCC.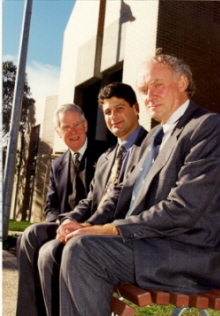 Steve Bracks worked as a school commerce teacher between 1976 and 1981. During the 1980s Steve Bracks become Executive Director of the Ballarat Education Centre, and in 1989 was appointed statewide manager of Victorian State Government employment programs under the John Cain Labour Government. His next role was as adviser to Premier John Cain, then Premier Joan Kirner.
In 1994 Steve Brack's won Joan Kirner's former seat of Williamstown, and was immediately elected as Shadow Treasurer. The July 1995 edition of 'UB On Campus' ran the headlines 'Steve Bracks MP: From Uni Student to Council Member', reporting: "Twenty years after completing his Diploma of Business Studies at the fledgling Ballarat Institute of Advanced Education, Steve Bracks has returned to the campus as a government appointee to the University Council." At that time Mr Bracks stated "that while Ballarat might be a small university, it is one of the most progressive .... The University is not just about academic responsibility but its commitment to Victoria and Ballarat in terms of jobs growth."
In March 1999 it appeared that the ALP was in for a defeat under the leadership of John Brumby. Bracks was elected Opposition Leader after Brumby's resignation, and became Premier of Victoria in the same year. Steve Bracks resigned as Premier in July 2007.
The University of Ballarat Student Association offered Steve Bracks a life membership in 2000 in recognition of his service to the Association during his student years.
This biography prepared by Clare Gervasoni, July 2006, updated July 2007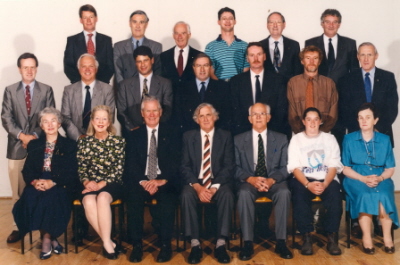 Image caption (RHS): Steve Bracks (Cat.No.8192)
Image caption (LHS): L-R Prof. David James, Steve Bracks, MLA (Shadow Spokesman for Employment, Industry Relations and Tourism, and representative for the Victorian Parliament on the University of Ballarat Council) and Pat Hope, Pro-Vice Chancellor(Administration) sit outside the Administration Building at Mt Helen, 1995. (Cat.No.6437)
Image caption (Lower RHS): UB Council 1995. (Cat.No.7321)
Back row L-R: A.D.C. Fisken, W.H. (Bill) McGregor, Prof. David E. Caro, P.J. Kennedy, Prof. I.S. Ferguson, David H. Haymes.
Centre row L-R: Assoc. Prof. Trevor R. Hastings, Rex H. Hollioake, Steve P. Bracks MP, Hon. R.S. (Dick) de Fegely MLC, B.K. Dixon. Stafford W. McKnight, R.T. Morrell.
Front Row L-R: M.N. Valentine, J.M. Torney, Prof David W. James, Prof. Geoffrey N. Blainey AO, W.J. (Bill) Pryor, T.L. Williams, H.J. Williamson.