Guido and Noel BRELAZ
Josephine Brelaz Scholarship for Science
Ballarat School of Mines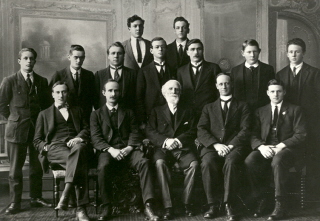 Guido and Noel Brelaz were diploma students at the Ballarat School of Mines (SMB) in 1923-4. In 1957 the Brelaz brothers founded a scholarship, to be known as the Josephine Brelaz Scholarship, in memory of their mother. The scholarship, awarded annually to the student who showed the greatest merit, was originally valued at 25 guineas. When the scholarship was announced Guido and Noel Brelaz intimated that they founded the scholarship because they felt they owed a great deal to the training they received at SMB, which enabled them to establish a Melbourne chemical business.
Noel Brelaz was chief chemist at Brinds' Distillery, Ballarat. He studied fermentation processes under Dr Effront in Paris in 1927. Brelaz was technical director of Federal Distilleries till 1932, a consultant between 1932 and 1940, until the formation the Standard Chemical Company at Melbourne in 1940 with his brother Guido. Noel Brelaz died in 1960.
In 1969 Guido Brelaz, who had donated $200 for a number of years formed, a Trust Fund of $5,000 to provide the scholarship in perpetuity.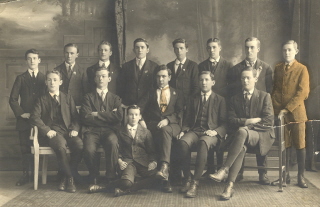 The winners of the Josephine Brelaz Prize for Science are:
1957 Robert M. Norton, Civil Engineering
1960 Robert M. Norton, Civil Engineering
1961 John E. Kavanagh
1962 John Thorne
1969 P.D. Hensley; R.J. Withers; F. Stipcevic
1970 F. Stipcevic, N.R. Lowe and B.C. Edward 1971 F. Stipcevic, D.J. Wills and A.D. Boyd
1972 T. C.Astbury, W.L. Robert and M.T. Leonard
1978 John Dallas Ross
1979 Gregory J. Belsar, Peter W. Critchley, Kristyn G. Hart, Ronald C. Potter, John D. Ross, Josephine K. Shannon, and Raymond J. Thompson
1980 Darryl W. Baird, Francis W. Brown, Margaret M. Hadden, Robert G. Netherway, Ronald C. Potter, Leanne K. Shannon and Gregory B. Wain
1981 Darryl W. Baird, Francis G. Brown, Francis W. Brown, Bruce D. Hollioake, Andrew D. Hutchins, Ian D. McNish, Anthony Michaelides
1983 Colin R. Burvill, William J. Christie, Graeme D. Earl, Man Yan Leung, Steven N. Malley, Victa J. McClelland, Ian D. McGaffin, Rodney J. Sheppard, Jon A. Weir
1984 Mark G. Davies, Giuseppe L. Fiusco, Gregory D. Hawkes, Paul A. Koopmans, Gregory R. Maloney, Jeffrey W. Rigby, Jennifer L. Sadler, Gregory I. Shay
1985 Stephen H. Cole, David C. Conway, Paul Hotchin, Trevor R. Nuridin, Francis P. Rice, Gregory I. Shay, Ralph R. Stone
1986 Karen Bibby, Ricky W. Calvert, Shane M. Cowen, Karen M. Lindorff, Stephen G. O'Brien, Peter A. O'Donnell, Stuart R. Palmer
1987 Grant B. Cushion, Michael N. Fitzgerald, Paul F. Gibney, David C. Holmes, Felicity J. Love, Peter A. O'Donnell, Darrel J. McLeod, Peter A. Spence
1988 Eleisha J. Birkin, Russell J. Bride, David J. Caligari, David C. Holmes, Steven Keenan, Kim L. Rykers
1989 Zlatko Balazic, Deane E. Ellwood, Anthony J. Klein, Stephen A. Vranesic
1991 John Culvenor, Carli Dowsing, Stephen Mew, Paul Rowe, Robert Simkin, Peter Wenyss
1992 Anthony Furr, Anthony Morris
This biography researched by Clare Gervasoni, May 2006.
Image Caption (RHS): SMB Magazine Committee 1918. Back Row L-R: Allan Bernaldo, A.H. Hoskin.
Standing L-R: J.N. Wood, GUIDO J. BRELAZ, H. Jolly, Albert E. Williams, R.W. (Dick) Richards, H.E. Green, H. Maddison.
Sitting L-R: H.B. Herbert, O. Copeland, Prof. Alfred Mica Smith, E.J. McConnon. D.G. McGrath. (Cat. No. 412)
Image Caption (LHS): SMB Scholarship Winners 1915-6.
Back Row L-R: E.M. Wills, H.G. Wakeling, N.C. Carmichael. F. Larkin, T.G. Wasley, J.A. Leask, S.J. Chambers.
Front Row L-R: A.C. Hannah, Albert E. Williams, J. Phillips, Allan T. Bernaldo, P. Chatham, NOEL BRELAZ. (Cat. No. 0419)