Former Ballarat Court /1st School of Mines
No longer standing, SMB Campus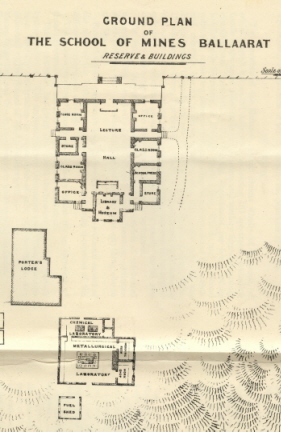 According to Ballarat historian William Bramwell Withers 'The first sitting of a Supreme Court judge in Ballarat was in 1856, the late Mr. Justice Williams, father of Sir Hartley Williams, having opened the first Assize Court here on the 12 December of that year.
A second court house (ss) was built in 1868, and the former courthouse abandoned. With the formation of the Ballarat School of Mines early in 1870 the Government, upon being approached, gave for the use of the school the old court-house in Lydiard St, with a liberal concession of land.
An 1870 'Ballarat Courier' report states:
In the tympanum surmounting the front of the building the words SCHOOL OF MINES were inscribed, and so these few words made known to the public the new use for the recently disused building. The verandah was "restored to the perpendicular" and old decayed timbers in the building replaced. Competent persons examined the effects of the subsidence of the ground which had been the cause of the building's abandonment about eighteen months earlier. They reported favourably on the building's safety, although the south-eastern portion had sunk about six inches. The building's interior presented a neat and functional appearance. The furniture of the court-room was removed, except the which was formerly used by the judges. It was retained for use as a platform for lecturers to address their classes. The levels of the floors were raised where required; the low portion of the roof was raised by underpinning and the roof re-slated and made weather-proof. The ceilings were boarded with pine throughout and the woodwork of doors, windows, skirting, platforms, mantelpiece and ceilings were varnished. This varnishing, in conjunction with the fresh colouring on the walls created a wholesome and tasteful atmosphere.
Timeline
1856 Building of a new gaol commenced. A wooden structure erected in 1854 was in existence at this time.
1856 First sitting of Supreme Court at Ballarat.
1868 The Courthouse was abandoned for a new building.
1870 The Ballarat school of Mines was granted use of the former Courthouse.
1915 New technical Art School building opened on the site of the former Courthouse.
| | | |
| --- | --- | --- |
| Former Ballarat Circuit Court, c1868 (Cat. No. 4894) | | Ballarat School of Mines, showing former Circuit Court on right hand side, c1905.(Cat. No. 0490) |