Testimonials
Exchange program
'My Time at a Lithuanian University' (pdf, 1.3Mb) - Stephanie Greenaway (2019)
New Colombo Plan
Feedback has been requested and provided from NCP participants via feedback forms. Students were asked to comment on the challenges and obstacles that were faced both before and during the tour, and, lastly, to reflect on the significant learning outcomes that resulted from the trip.
Some of the student comments regarding their cultural exposure, reflections and recommendations of the Asia-Pacific region and New Colombo Plan are noted below:
Lara Viljoen, Shenzhen 2020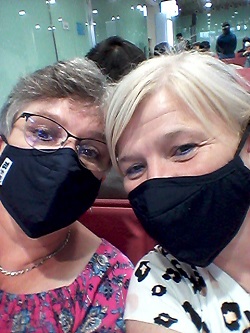 "I would definitely recommend this (NCP) trip to any student. I feel it gives people an appreciation of what other cultures have to offer and a realisation that we enjoy many freedoms in Australia. We take many things for granted so it is good to see how other people live. It is also good to see how Australia benefits from business ties with other countries and how these ties ultimately affect us. This was very obvious with the outbreak of the Corona Virus. This affected exchange rates, travel plans for many people and how people perceive other cultures when things like this happen.
Although we have different lifestyles, beliefs, languages and ways of living, people generally have the same aspirations of working and being able to support their families.
People are innovative in bridging the communication gap and are able to use different forms of communication.
I was amazed at the obvious close family ties and the way sharing and caring was a big part of the culture. It was very refreshing to see this."
Amy Ryde – Shenzhen 2020
"This study tour was a wonderful experience that really gave me an insight into a different culture. Upon reflection of the tour I have a better understanding of the Chinese culture and how this impacts on their businesses. I believe I am now more knowledgeable of the Chinese culture and made some great friends along the way.
Shenzhen is a unique city that although has Chinese characteristics is pushing ahead as successful technology hub that is open to international business
The culture in China heavily impacts on their businesses and their day to day life. For example Chinese New Year sees mass migration, closing of businesses and their highest rate of retail sales.
Shenzhen encourages culture and artistic expression with multiple museums, galleries and libraries."
Carly Tulloch – Shenzhen 2020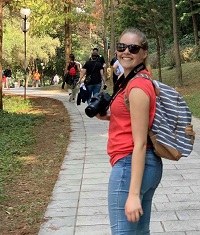 "I would highly recommend the NCP for any student who wants to experience overseas travel and a different culture in their university degree. The trip was an eye-opening experience and allows you to learn more about a different culture, meet new people, make new friends, learn more about international business and explore a new place. The trip is a good amount of time so that you won't miss home too much but is long enough to experience the culture of the Asia Pacific region. The NCP goes towards your degree, so it is a fantastic opportunity to travel and learn at the same time."
Lavinia Butterworth, Dalian 2019.
"It's changed how I think of Asia, it's not as third world as people describe it, in many ways they are more advanced than we are, the people in Dalian were all very kind."
Nicole Devey, Dalian 2019
"This tour allowed for me to gain insight to another cultures differences in relation to not only how they study, through attending classes but also through company tours and being exposed to a different set of values and norms through their everyday lives. I would recommend to students undertaking a degree to plead with the government to allow all students the opportunity to engage in a program like this. It honestly opens your eyes up to a whole different culture and part of the world. Having those 18 days during this study tour is equivalent to so much more than learning about a country in a classroom. I feel so blessed to have been allowed to take part in the New Colombo Plan. As I now have amazing memories and experiences to cherish forever!"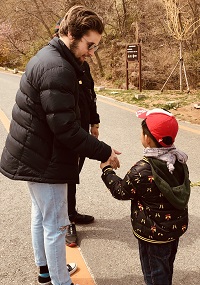 Michelle Symes, Dalian 2019.Michelle Symes, Dalian 2019.
"I would absolutely recommend this experience to students of any age. The trip was life changing. To be immersed in another culture, eat the food, hear the language and interact with students, in addition to getting some money can't buy experiences is priceless."
James Thomson, Dalian 2019
"Take-away #1. Networking: Meeting the vast amount of Chinese students and teachers on the trip was one of the most treasurable moments. Everyone was so kind and hospitable and not once did I feel unwelcomed.
Take-away #2. The Cuisine: The food in China was absolutely AMAZING! From Chinese hotpot to Japanese Ramen to fiddling with the chopsticks trying to eat your meal. The entire experience of having a meal was never dull.
Take-away #3. Dandong: One of the weekends we had free, we travelled with some of the Chinese students to Dandong via bullet train. There, we were lucky enough to experience the Great Wall as well as the North Korean Border."
Andrew McKinnon, Shaoguan 2018
"I would 100% recommend it to anyone because it is a once in a lifetime opportunity and experience. Going to China was never on my 'to do list' so I would have never been without New Colombo Plan (NCP). Also, you see a very different side of China doing a NCP tour, you see real China, not the tourist version."
Internships
Ballarat Arts Foundation Project 2018
"… I was keen to send a report in to Federation University after the placement that the Ballarat Arts Foundation secured for last calendar year… As a not for profit, this program was a wonderful opportunity for us to have some assistance firstly, but also and equally as relevantly, to be able to include a student in the workings of a local community based NFP organisation and for them to be able to develop a sense of the importance of such organisations in the workings of a community such as Ballarat. BAF would like to thank Federation University for the assistance provided through the WIL program and acknowledge that as a MOU exists between the two organisations, this collaboration is a fitting addition to working together to achieve the mission, through community engagement."
Paula Nicholson, Chair - Ballarat Arts Foundation
Run For a Cause
"I would 100% recommend it to other students. It was one of my favourite experiences from my time at Federation University and I gained so much out of the internship, such as experience in the marketing field including several sub-areas, dedicated mentors who informed me of all the ins and outs of these sub-areas, and was offered casual work at the company. My career aspirations changed by gaining experience in new areas and it gave me the confidence to know I was ready to enter the industry."
Abbey Cartledge, student
Paarhammers Pty Ltd - Social Media Marketing Internship 2019
"It was the first time that our business offered an Internship and we had a very positive experience. Our intern was Shannon, a young man who was very knowledgeable in many aspects of social media marketing.
Our window and door manufacturing business has an internal marketing team of two. We mostly used traditional marketing options and dabbled a little in social media. To go with the times it was imperative to update and increase our social media presence and a young person joining our team for a few weeks was the perfect solution.
Shannon updated our social media marketing and started a new avenue, Pinterest. He taught us how to make and post stories on Instagram and how to prepare short videos from still photos for use on Facebook.
Shannon learned to work in a small business with timelines and being outcome focused by necessity. He put his research skills to good use but also had the opportunity to learn computer programs not available at the university.
I believe the internship turned out to be a give and take where both sides learned from each other. Shannon gained work experience and we had a young person who is comfortable with all the new media available today, a win-win situation."
Edith Paarhammer, Marketing and Business Development, Paarhammer Pty Ltd
State Revenue Office Internship 2019
"All the tasks I was assigned were about real life HR scenarios, policies and procedures so they have educated me further on my Uni studies and have given me real life examples to reflect back on and refer to when applying for graduate jobs. They have given me the confidence in my HR knowledge and a better understanding on how to use what I've learnt in the office.
I have being so lucky to have this opportunity in my final semester of studies. It has given me so much more confidence and knowledge in the HR area and excites me to work in this industry now that I know what exactly happens on a typical day in the office. It is also a much more interesting way to earn credit points in a degree and for me, I am much more hands on a visual so the WIL program is something I definitely would recommend. I also completed the NCP China program which was again an incredible experience; taking advantage of these work experiences will help when applying for graduate positions for sure."
Lilian Baxter, student