Dr Giri Kattel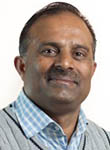 Dr Giri Kattel is an ecologist and paleoecologist with more than 15 years of experience working on a wide range of ecological projects in Europe and Asia-Pacific regions. His ground-breaking research focuses on climate change and human disturbances in lakes and reservoirs and has seen Giri pioneer new investigative approaches in subfossil cladocerans in both hemispheres.
When investigating the impacts of recent global warming and climate change on mountain lake ecosystems in north-west Europe as part of the European Mountain Lakes Research (EMERGE) program, Giri took an innovative approach, using subfossil assemblages of cladocerans. He developed a calibration set for summer lake surface water temperature (LSWT) followed by the creation of a cladoceran-based temperature transfer function. The use of this method to reconstruct the summer LSWT was the first of its kind in north-western Europe.
During his affiliation with the University of Auckland's School of Environment where he worked on the study of cladoceran-inferred paleoclimate change reconstruction of the Auckland maar lake over the past 30,000 – 9000 cal. years BP, Giri also became the first scientist to use cladoceran subfossils for reconstructing climate change in maar lakes of mid latitude Southern Hemisphere, New Zealand.
Giri is excited to be involved in the CRN program and believes it will be the ideal platform for both national and international research collaboration in climate and water. His goal is to set up a research laboratory at FedUni, which will connect with a strong global scientific community to understand the impacts of rapidly changing environment including climate change on ecosystems and humanity as whole in Australia and elsewhere.
Over the past two years Giri has initiated research collaborations with number of national and international scientists. Currently he leads projects on the use of paleolimnological approaches on ecosystem services of the Yangtze River floodplain lakes with Nanjing Institute of Geography and Limnology (NIGLAS-CAS). He is also working on Blue Mountain Fire and Climate Change research program in collaboration with the University of New South Wales (UNSW), as well as the management of water quality issues of the Port Phillip Bay, Victoria in collaboration with Deakin University and the Victorian Environment Protection Agency (EPA). Recently Giri has begun collaborations with Dr Marie Perga from the French National Research for Agricultural Research (INRA) on the use of stable isotopes in past food web and climate change research in wetlands.
In 2009 Giri joined the Murray Darling Freshwater Research Centre (MDFRC) at Mildura Campus of La Trobe University. Through these projects he became well-apprised of the wide range of problems associated with shallow floodplains lakes ecology and biodiversity conservation and management across the Murray Darling Basin. This work led to an opportunity to collaborate with FedUni's Prof Peter Gell, and from 2011, Giri and Prof Gell have directed a research focus on the use of paleolimnological approaches to understand the resilience of floodplain lake ecosystems in the MDB.
Giri was awarded a Visiting Scientist Fellowship from the GEOCYCLE Research Excellence Cluster of the University of Mainz, Germany, where he investigated human-climate interactions in Eifel Maar lakes during the Roman period Europe. He received the second Visiting Scientist Fellowship from the German Research Council (DFZ) to investigate paleo-food web dynamics of the former Eocene lake Messel while being at the Senckenberg Natural History Museum, Frankfurt.