Dr Andy Shugg (Hon)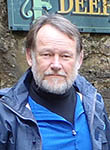 Dr Andy Shugg is widely-regarded as the global expert on Victorian mineral springs and has an encyclopaedic knowledge of groundwater in Victoria. He is an Honorary Research Fellow at Federation University Australia and maintains a part-time consultancy role with Sinclair Knight Merz (SKM).
Andy has over 40 years of experience investigating and researching the ground-waters of Victoria, much of it gained through his time at the Geological Survey of Victoria (GSV).
Andy was awarded a PhD from RMIT University in 2004 for his thesis on the mineral springs of Victoria and is an active member of the Mineral and Thermal Waters Commission of the International Association of Hydrogeologists.