Media releases
University researchers part of program to save wildlife
Posted: Tuesday 8 May 2018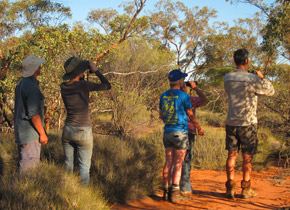 Researchers from Federation University Australia have been selected by the Saving Our Species program to help save four threatened species from extinction.
The program involving collaboration between research staff of the University and the Office of Environment and Heritage New South Wales has identified a threatened lizard, two bird species and a small mammal in need of protection.
"The University's Nanya research station, located in south west New South Wales, was selected as the core location due to its near pristine mallee environments," Emeritus Professor Martin Westbrooke said.
"The three-year project will involve researchers and landholders working together to manage threats to the endangered species. These threats can include fire, feral predators and loss of habitat."
The endangered species are the Southern Ningaui, Mallee Worm-lizard, Shy Heathwren and White-fronted Chat.
Professor Leigh Sullivan, the University's Deputy Vice-Chancellor (Research and Innovation), said the University had a long history of environmental research.
"Our 40,000 hectare Nanya property is a unique environmental site that has been under the University's custody since 2004," Professor Sullivan said.
"We look forward to working with the NSW Government to protect these endangered species from any further harm."