Media releases
Children's Centre selected for national kindergarten pilot program
Posted: Wednesday 6 September 2017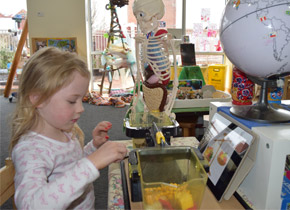 The FedUni Children's Centre at the SMB Campus has been selected to participate in a new national pilot STEM program for kindergarten children.
"As one of just 100 sites chosen across the nation this is a great achievement for FedUni," Colin Marshall, Director of Campus Life, said.
The program, Early Learning STEM Australia (ELSA), is a play-based digital learning initiative for preschool children to explore science, technology, engineering and maths (STEM).
The pilot program, commencing in 2018, engages children through a series of apps for tablet devices, activities, workshops and a set of resources linked to the Early Years Learning Framework.
Along with developing a program for early childhood settings, a suite of resources for families that connect children's learning environments and experiences at home and their preschool is also being developed.
"We are very excited to be part of this pilot program and look forward to providing a key learning opportunity to our kindergarten class," Mr Marshall said.
"FedUni recognises the important role of Early Childhood Education and strives to expose the children to a wide range of learning opportunities to provide them with the best start to their schooling and encourage lifelong learning opportunities."
Associate Professor Jennifer Mosse, Head of the University's School of Applied and Biomedical Sciences, said the early exposure of pre-schoolers to enjoyable science and maths activities was likely to improve subsequent skill development and prepare students for future STEM-based careers.
"Our FedUni study into why students choose to study STEM programs revealed that personal interest was very important in this decision making," Associate Professor Jennifer Mosse said.
"Interest and enjoyment overwhelmingly outweighed other considerations such as career prospects, salaries or the advice of others."
Enrolments are now being taken for kindergarten programs at SMB and Mt Helen for 2018 and beyond.
Contact the centre today to schedule a tour. Email childrenscentres@federation.edu.au