View and print confirmation of your enrolment (TAFE only)
Important:
The VET confirmation of enrolment form can be used to provide evidence of your study to Centrelink.
You will need PDF software installed on your computer to view the VET Confirmation of Enrolment form
Steps: Login to my Student Centre by going to mySC.federation.edu.au
Enter your User ID number (student ID) and Password, then select the sign in button.
If you are having trouble logging into my Student Centre please contact the Service Desk or 53279999
How to obtain a confirmation of enrolment form

Select the Academic Records tile.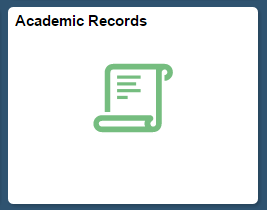 From the menu select VET Confirmation of Enrolment.

The View Confirmation of enrolment page will display an Enrolment Year and a View Report button. Check the Year you wish to generate the form for is correct – for example, 2014, and click the VIEW REPORT button.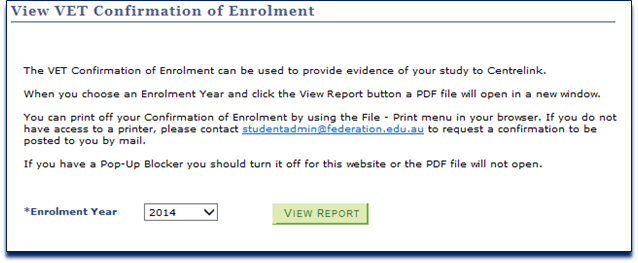 The confirmation of enrolment document will open in PDF in another window. If you wish, you can print or save the PDF document. Click the close tab to return to mySC.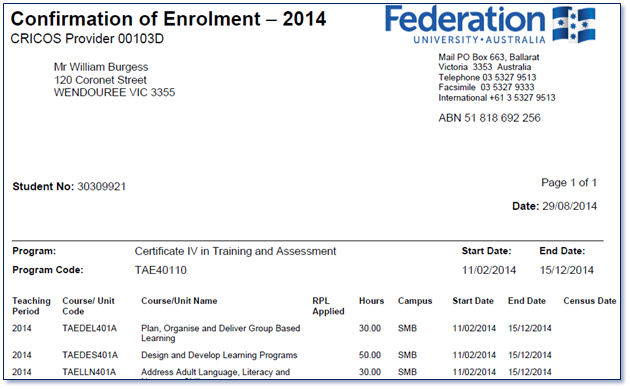 Congratulations. You have successfully viewed your Confirmation of Enrolment form.
Click on the Home button

to return to the Home page.