Media releases
Student Kellie Young excels in Women Victoria Scholarship Program
Posted: Tuesday 13 June 2017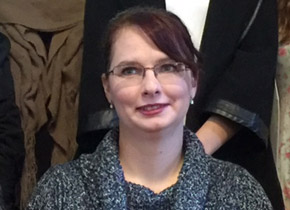 Education student Kellie Young from Federation University Australia has been awarded a prestigious ATSE-WISENet Bursary for a Masters student of Education preparing to teach science, technology, engineering and mathematics (STEM) subjects.
Kellie was presented with the award last weekend at the University of Melbourne.
Professor Marcia Devlin, Deputy Vice-Chancellor (Learning and Quality), attended the ceremony on behalf of the University.
"Kellie is to be congratulated for being awarded this major bursary," Professor Devlin said.
"She is a resident of the La Trobe Valley and a leader in the STEM field. As well as currently studying a Masters degree with us in Education, Kellie is also a part time staff member, teaching statistics to students on the Berwick Campus and Chemistry to students on the Gippsland Campus.
"FedUni has many leading programs in STEM. We encourage more young women like Kellie to consider studying STEM. The opportunities and job prospects in the field are very promising."
Kellie credits her teachers with her success. In particular, she praised Jo-ann Larkins, Scholarly Teaching Fellow in Statistics, with providing her with significant mentoring.
Kellie also praised Heather Ernst and Cheryl Glowrey, both Lecturers in Education, for the quality of their teaching and going out of their way to offer support and encouragement.
"Jo-ann, Heather and Cheryl are typical of the quality of teachers we have at FedUni," Professor Devlin said.
"Their skill and care exemplify why FedUni gets five stars for teaching year after year from the Good Universities Guide."
Kellie plans to use her bursary to help pay for the costs of study.
ATSE is the Australian Academy of Technology and Engineering. WISE-net was the Women in Science Enquiry Network Inc, which merged with Women in Science Australia in 2016.