Media releases
Remembering those killed in workplace accidents
Posted: Monday 14 October 2019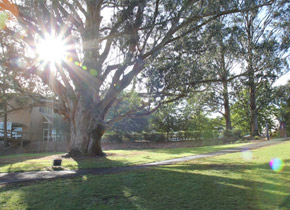 A Remembrance Service to commemorate those who have been killed in workplace accidents and support grieving families will be held at Federation University Australia's Mt Helen campus this week.
Held as part of WorkSafe month, the service will allow bereaved families, occupational health and safety workers, and workplace members to honour those who have been killed at work.
In 2018 a total of 106 Australian workers were killed in workplace accidents and in 2016-17 there were 106,260 serious workers' compensation claims.
The non-religious and non-political service will be conducted by GriefWork Uniting in partnership with the University's Victorian Institute of Occupational Safety and Health (VIOSH) and Ballarat Regional Occupational Safety and Health Group (BROSH).
GriefWork Uniting has helped families through the awful experience of grieving for a loved one following a workplace fatality.
Uniting Victoria also is proud to have a role in the service through its long partnership with WorkSafe Victoria over more than 20 years. It hopes to continue to strengthen its relationship with WorkSafe, VIOSH and BROSH.
The Remembrance Service will be held at 1:00pm, Wednesday 16 October. Anyone interested in attending the service should contact Liz Seaward at e.seaward@federation.edu.au or Bette-Phillips Campbell on 0409 788 883.
Quotes attributable to VIOSH Program Co-ordinator Liz Seaward
"We live in arguably the safest state to work in the country, but even last year 23 Victorians died in traumatic incidents, and many more from heavy vehicle crashes and work-related suicide."
"Much more needs to be done and the community has a role to play in putting more value on the right to go home from work each day safely."
Quotes attributable to Uniting Victoria's Bette-Phillips Campbell
"The ritual of remembrance services is an important part of the healing for those bereaved where work has been a factor in a death. All workers should be able to go to work and go home safe."
"This has been an important year for families who have given voice to the Industrial Manslaughter Law to be introduced in Parliament later this month. It is hoped that this law will act as a deterrent to employers to ensure that their workplaces are safe."