View a hold on your account
Important:
The following document explains how you can view your holds in my Student Centre.
An example of why a Hold may have been placed on your account may be due to due to non-payment of fees or late fees on library books.
You will be able to access the details as to why the hold has been place on your account by following the steps below.
Steps: Login to my Student Centre by going to mySC.federation.edu.au
Enter your User ID number (student ID) and Password, then select the sign in button.
If you are having trouble logging into my Student Centre please contact the Service Desk or call 1800 333 864 (1800 FED UNI).
Hot to view holds
Select the Holds tile.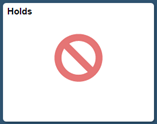 Click the Holds link. This page gives you an overview of any Holds on your account.

Click on the Agency Debt hyperlink to access more detailed information about your hold page. You Hold item will display a Reason for the Hold and a Contact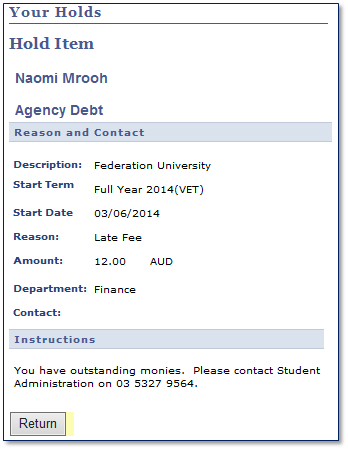 Click the Return button to return to the holds page.
Click the Home hyperlink to return to the Home page
You have successfully checked the Holds on your account