View your invoice
Important:
After you enrol, your fees will be calculated and an email notification will be sent to your student webmail account when an invoice/statement is issued. Your online invoice is available to be viewed and printed from you r my Student Centre account. Fees are due for payment by the date specified on your invoice/statement.
Steps: Login to my Student Centre by going to mySC.federation.edu.au
Enter your User ID number (student ID) and Password, then select the log in button.
If you are having trouble logging into my Student Centre please contact the Service Desk or call 1800 333 864.
Select the Campus Finances tile.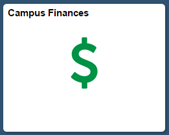 Select the charges due tab.

The Charges due page will show any outstanding charges.

Scroll to the bottom of the page to view invoices.
You will see an Invoice Number and Invoice amount
Click on the Invoice Number: This will open another window and enable you to generate a Tax Invoice/Statement.

Click the Close tab button to return to my Student Centre or click the home button icon

to return to the Home page.