Set up a refund profile
Important:
To receive a refund you will need to provide your personal banking details to allow a direct deposit to occur.
Steps: Login to my Student Centre by going to mySC.federation.edu.au
Enter your User ID number (student ID) and Password, then select the sign in button.
If you are having trouble logging into my Student Centre please contact the Service Desk or call 1800 333 864.
How do I provide my bank details for refund purposes
Select the Campus Finances tile.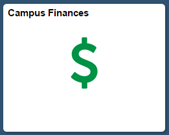 From the menu select Make a Payment.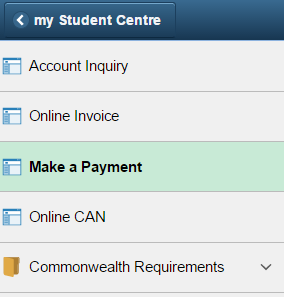 Click the refund profile tab.


A Refund Profile Page will appear. Click the drop down list to show Bank Deposit.
Click the Bank ID look up icon to find your Banking Organisations
Click the Branch ID look up to access your Branch ID.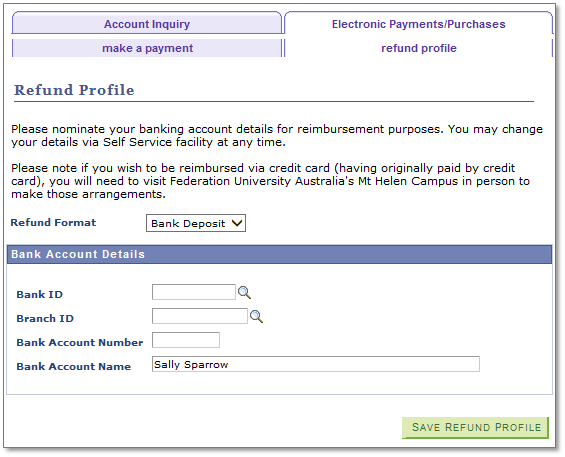 To assist you in finding your Branch ID - Click the 'Search by: list items'
Click the Description option and enter your branch location. For this example we have used Ballarat.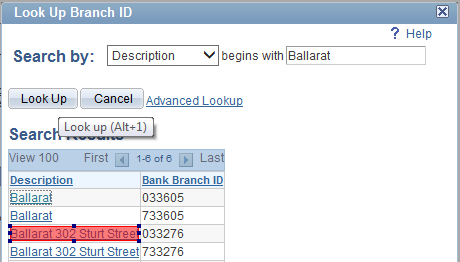 Enter your Bank Account Number, click the SAVE REFUND PROFILE button.

Click on the home button

to return to the Home page.