SG and JG Scholarship (MIT Melbourne)
Category

Foundation

Location

MIT Melbourne

Annual value

$7,000

Open date

14/08/2022

Close date

07/04/2023

Study sector

Higher education

Study level

Bachelor; Honours; Postgraduate

Student type

International

Student status

New / commencing

Additional eligibility criteria
Scholarships available

1
How to apply
Apply directly through our Scholarships and Grants portal.
About Shesh Ghale and Jamuna Gurung
Shesh Ghale is the Chief Executive Officer of Melbourne Institute of Technology and, with Jamuna Gurung, a co-founder and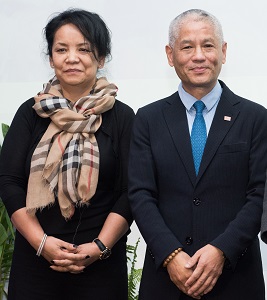 Director of the Institute.They established MIT in 1996. The Institute has since grown and developed into one of Australia's leading private higher education providers of degree and postgraduate degree courses in Business and Information Technology.
Shesh was born in Nepal and his initial tertiary education was in the former USSR from 1979 to 1986, graduating Master of Civil Engineering from Kharkov Automobile and Highway Institute. Shesh undertook his studies on a Nepalese Government scholarship and, on returning to Nepal, worked as a highway project engineer for the Nepalese Government Transport Department.
Relocating to Melbourne in 1990 to undertake further studies and to settle his family in Australia, Shesh graduated from Victoria University in 1994 with a Master of Business Administration.
Post his MBA studies, and coincident with establishing MIT, Shesh took up Australian citizenship in 1997 and served as Honorary Consul General of Nepal in Victoria from 1997 to 2000.
Shesh is actively involved in Melbourne's business and commercial life and has a passionate commitment to education.
Recipients