Media releases
East Gippsland businesses on a winner
Posted: Thursday 17 October 2019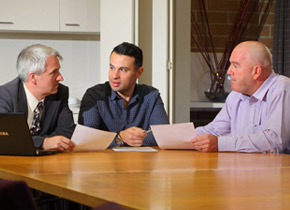 Enterprises that excel in innovation, sustainability, community services and hospitality were among the winning entrants in the Federation Business School East Gippsland Business Awards this week.
The East Gippsland Business Awards are a major event on the local business calendar, attracting over 100 applications, more than 20 sponsors and an attendance greater than 200 guests each year.
Creators of the best products and services the region has to offer were celebrated on the night and a total of 21 awards were presented to the finalists.
Advice from the judges after the ceremony may enable applicants to make changes to their business model and increase their professionalism and competitive edge.
Award categories also included Marine, New Business, Franchises, Internet Business, Personal Services, Disabled, Health, Food and Fibre, and Arts and Culture.
Federation University's Head of Gippsland Campus, Leigh Kennedy; Dr Abdel Halabi, MBA Program Manager; and Garry Squires from Business and Tourism, East Gippsland, were among the speakers.
Quotes attributable to Dean of Federation Business School, Professor Christina Lee
"Federation Business School is delighted to honour the many thriving businesses in the East Gippsland region. Businesses throughout East Gippsland contribute greatly to the region's gross product of $2.440 billion and the area also represents 15 per cent of Gippsland's entire regional product of $16.268 billion – these are outstanding figures."
"Federation's Gippsland campus has a long history of working with East Gippsland businesses and attracting students from the region to the University. Our Gippsland Business School graduates are highly sought-after by employers throughout all of Gippsland and beyond."