News
Richard Brome play to be performed at Arts Academy
Posted: Wednesday 22 March 2017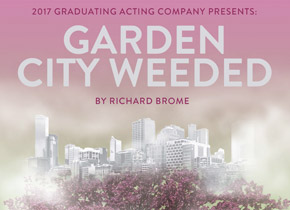 A popular 17th Century English playwright is experiencing an unexpected revival at Federation University Australia.
Garden City Weeded is the fourth Richard Brome play and will be presented at the University's Arts Academy in Ballarat. It will be directed by Kim Durban, the program leader of FedUni's renowned Acting Program.
"If you will excuse the pun, the plays of Richard Brome (pronounced 'broom') have been swept under the carpet, but nobody knows why," Bryce Ives, Arts Academy Director, said.
"Once upon a time he was popular, but for 300 years or more he was forgotten, this particular work has only been performed once since 1632, at Shakespeare's Globe in a rehearsed reading in 1999.
"Kim Durban has demonstrated time and time again that Richard Brome is hysterically funny, relevant to this moment in time, and provides a brilliant platform to showcase the excellent actor training that takes place at the Arts Academy," Bryce Ives said.
The real Earl of Bedford got into trouble in the 17th century for building without a licence, not following design specs agreed with the surveyor, and going ahead without sufficient infrastructure.
Garden City Weeded is set in various taverns and houses between Carlton and the Docklands. The play is about recalcitrant fathers, naughty children and property development.
Across her celebrated career Kim Durban has built a strong reputation as a theatre director of both new work and classic texts.
Richard Brome provides a personal unique point of view, well suited to the revival of his plays in contemporary times.
Staging Richard Brome is the subject of Durban's PhD, a body of research and work deeply influenced by her time teaching at FedUni.

"Whilst revered Elizabethan and Jacobean playwrights like Shakespeare can be seen to occupy an 'upstairs' position in culture - that is, their works are accepted, recognized and included in the cultural register," Kim Durban said
Brome is a dag with a great sense of humour, hates pretension and writes a lot about women, servants and families.
"I have identified with and argued for a perspective on Brome that celebrates, indeed, dignifies his position as a talented democratizing dramatist especially suited to performance and actor training in the rural Australian setting of Ballarat."
Garden City Weeded by Richard Brome
Directed by Kim Durban
Design by Adam 'Gus' Powers
Vocal Coach Margaret Mills
Performed by the Third Year Graduating Actors of the Arts Academy
Helen Macpherson Smith Theatre
April 6, 7, 8, 9, 11, 12 and 13
Tickets on sale now at: https://www.eventbrite.com.au/e/garden-city-weeded-tickets-18183859413