News
Rise in youth unemployment 'a result of traineeship cuts'
Posted: Thursday 28 August 2014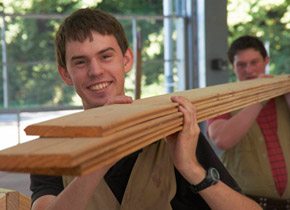 Recent rises in youth unemployment in Victoria and elsewhere in Australia are a result of cuts to traineeships, according to Federation University Australia researcher Professor Erica Smith.
"Thirty years ago, traineeships were introduced by the government as a response to youth unemployment, following a report produced by Peter Kirby," Professor Smith said.
"As they evolved they provided very useful skill development strategies for industry as well as combating unemployment."
Professor Smith's research speciality is apprenticeships and traineeships. She is co-convenor of INAP, the international apprenticeship research network.
Traineeships are a similar form of employment arrangement to apprenticeship, in which people are employed at the same time as undertaking a nationally recognised qualification.
"The beauty of traineeships was that they expanded these opportunities to a much wider range of industries than traditional apprenticeships," Professor Smith said.
"Previously the opportunities were only available in trade jobs, which were almost all undertaken by men."
Most employment opportunities for young people these days are in the service industries, which are well catered for by traineeships. While in the early days traineeships were often not very well organised or managed, this situation has changed.
A 2009 report on quality in traineeships by Professor Smith and colleagues, published by the National Centre for Vocational Education Research (NCVER), explicitly de-bunked many of the myths surrounding traineeships.
Subsequently, research has confirmed the high standard of many traineeships and particularly the role that they play in assisting young people and disadvantaged people into employment.
"What has happened in the last three years is that the Commonwealth government, beginning under Labor, has progressively withdrawn the small amounts of funding provided to employers to help them set up and run traineeship programs," Professor Smith said.
From 2012 in Victoria, the State Government has reduced funding for the training in those occupations in which the majority of young people used to find their first jobs, often through a traineeship: retail and hospitality. It is not surprising that with this 'double whammy', many of these job opportunities have disappeared.
Youth unemployment started to climb very quickly after the double sets of cuts to traineeships were implemented, an outcome predicted by Professor Smith at the time.
"Employers would take a risk with a young person if they knew that a structured training program would help them develop the young person into an effective worker, but they are less likely to take that risk without such support," Professor Smith said.
National figures for apprenticeships and traineeships recently released by the NCVER show a continuing decline in numbers. Nationally, figures have declined by 20 per cent in the past year (with Victoria at nearly 25 per cent) with 'non-trades' commencements (ie traineeship commencements) falling by 31 per cent.
"This is a massive reduction, and is unprecedented internationally," Professor Smith said.
"Internationally, most countries are seeking to expand their apprenticeship and traineeship in order to combat youth unemployment triggered by the global financial crisis. Australia is alone in reducing opportunities for young people."