Federation TAFE teacher Australia's first wind turbine technician instructor
10 February 2023
---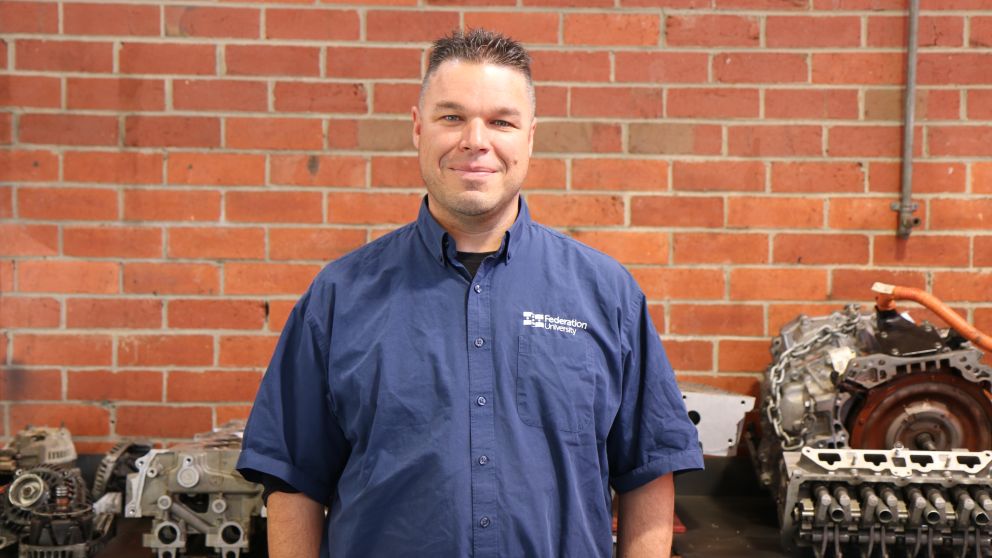 Federation TAFE automotive teacher Andrew Edwards will soon be Australia's first BZEE accredited wind turbine technician instructor after he travels to the USA later this month.
Andrew will undertake the 8-week BZEE Instructor Certification program at the Wind Turbine Technician Academy at Kalamazoo Valley Community College (KVCC), Michigan, America's leading training centre for wind turbine technicians.
KVCC has earned certification by the premier training provider for wind turbine technicians in Europe and North America, Bildungszentrum für Erneuerbare Energien (BZEE) Renewable Energy Education Centre.
On his return Andrew will be the only BZEE qualified wind turbine technician instructor in the country and will be equipped to "train the trainers" who will then, in turn, be able to deliver the globally recognised BZEE Turbine Technician Training Course, regarded as the world's key qualification enabling employment in the wind energy industry, at the Asia Pacific Renewable Energy Training Centre (APRETC).
APRETC was established at Federation's Ballarat Campus (Mount Helen) in November 2021 with the construction of a 23-metre wind turbine training tower – the first facility of its kind in Australia. As part of the $50 million TAFE Clean Energy Fund, the Victorian government recently pledged $6 million to support the establishment of APRETC Stage 2, a state-of-the-art education centre that will focus on training, research-led maintenance and innovative diagnostics to support the wind energy industry.
Andrew, a qualified mechanic and auto electrician, saw the opportunity to utilise his existing technical knowledge to help train instructors and technicians at APRETC.
"The idea of this technical training is to gain the experience to be able to train people in this sector. I saw the opportunity come up and thought, 'this looks really interesting'. Many skills are transferable from the automotive industry and a lot of automotive technicians have moved into the renewable energy sector because they need the mechanical skillset as well as A-grade electricians. They run crews of both."
Andrew, like many others, is proof of how Federation TAFE can help people reskill in order to take advantage of skills shortages in emerging industries, such as renewable energy.
"My background is not in renewable energy, but the wind energy sector is such a huge growth area that they're struggling to find people to fill roles and employing a lot of people from backgrounds like mine. The growth is going to be five-fold by 2030 so there's definitely demand there. But you've got to be good with heights."
Aside from the upcoming BZEE Instructor Certification, Andrew has previously completed a one-week Rescue at Heights course closer to home in Melbourne, a course that will be offered at Federation in future.
Asked what advice he'd give to someone thinking of entering the wind energy industry, Andrew advises, "Talk to as many industry participants as you can. I've had lots of meetings with different people in different segments - mechanical, electrical, management. Gauge where the need is for your particular skillset. I've reached out to a lot of industry partners that we have through the university, had a bit of a chat to them and they're like, 'You're perfectly suited for this area and being trained up for this course'."